Howard Hughes

by Archie P. McDonald
The media provided plenty of coverage of the eccentricities of Howard Hughes Jr., legendary industrialist, aviator, and motion picture producer/director. Especially memorable were stories of his reclusiveness and phobias, made much of in a novel titled The Carpetbaggers published by Harold Robbins in the 1960s and a more recent film titled "The Aviator," starring Leonardo DeCaprio.
What of Howard Hughes Sr., a person blamed by in both vehicles for some of Jr.'s quirks.

Howard Robard Hughes Sr., was born in Lancaster, Missouri, on September 9, 1869. After finishing a public education in Keokuk, Iowa, Hughes attended military preparation academies in Morgan Park, Illinois, and St. Charles, Missouri, before attending Harvard University and later the University of Iowa. Hughes did not complete his legal education but he did hang out his shingle in his father's firm before deciding to enter the lead and zinc mining business in Joplin, in the southwestern portion of Missouri.

Like many other strike-it-rich hopefuls, Hughes arrived in Beaumont as quickly as possible after the news of the Spindletop Gusher in 1901 circulated. Hughes founded a drilling business in Beaumont in partnership with Walter B. Sharp and for the next several years moved about southern Texas and Louisiana, pursuing the inevitable "boom" that followed each new discovery.

Frustrated, as were many drillers, with the slow pace and sometimes inability of available drilling equipment and techniques to penetrate rocks in the quest for oil, Hughes took time off to think about the problem. As a result, he designed a drilling tool, or bit, with three drilling components which operated on an interlocking basis. Previous methods essentially consisted of pounding drilling the tool downward toward oil; Hughes' device ground the strata and pushed it aside and upward behind the tool.

In a demonstration at Goose Creek, Texas, Hughes proved that his tool could penetrate solid rock, so he filed for the first of what grew to more than seventy patents and the foundation of a sizeable fortune. The Sharp-Hughes Tool Company produced the bits from 1909 until Sharp's death in 1912. Eventually Hughes acquired all stock in the company from Sharp's heirs or others who had purchased them, when the firm, with headquarters in Houston, became Hughes Tool Company.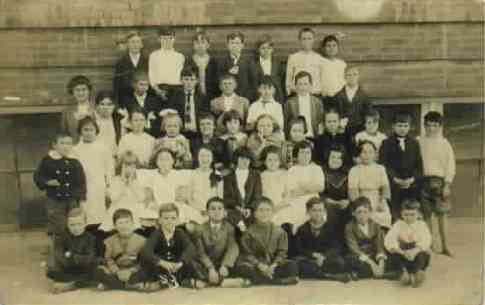 According to Russell Davis Johnston, youngest son of Hugh White, the school was referred to as Central School and was located in the Montrose area near the University of St. Thomas. In this class photo are the Herman children and Brown children. Russell on the front row far right with X on shirt. Howard Hughes stands behind him in black suit and white tie.The Kirby brothers are in the front row (left to right) first and third child. Teacher is Miss Davis.
Photo c.1911courtesy Johnston Family
Hughes married Allene Gano in 1904 and they were the parents of one son—Howard Robard Hughes Jr., and man about whom novels were written and movies were filmed and legends told even into the twenty-first century.

© Archie P. McDonald
All Things Historical July 28, 2008 column
A syndicated column in over 70 East Texas newspapers
(The East Texas Historical Association provides this column as a public service. Archie P. McDonald is director of the Association and author of more than 20 books on Texas.)
Books by Archie P. McDonald - Order Here

Primary Source Accounts of the Civil War