History in a Pecan Shell

Originally named Blue Prairie, settlement occurred in the 1870s with a post office opening (under the Monkstown name) in 1878. There was no monastery here, but there was a man called James Monks. It was Jimmy Monks who donated the land on which the town developed.

Wheels were turning in the mid 1880s. Gin wheels and millwheels, that is. Midway through the 1890s, the town peaked with a respectable (for the times) population of 400.

At this apex, Monkstown could (and probably did) boast fifteen businesses! Things were going well for the country in the 1920s, but Monkstown's population was slowly declining. In the late 20s, the town closed its post office and after WWII, only 70 residents were left.

The 1990 census, as well as the 2000 census reported an estimated 35 Monkstowners. Monkstown retains the name, but some could say that the area once again resembles a "blue prairie."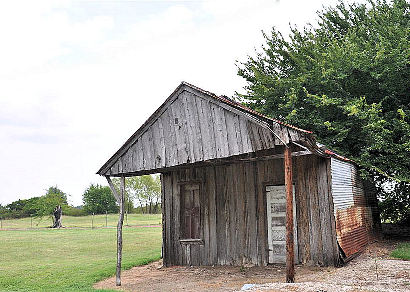 Texas Escapes, in its purpose to preserve historic, endangered and vanishing Texas, asks that anyone wishing to share their local history and vintage/historic photos, please contact us.
Custom Search