The Man:

George Washington Brackenridge was born in Warwick County, Indiana, in January of 1832. He attended the University of Indiana, and Harvard University. When his parents came to Texas in 1853, they settled at Texana (now a ghost town) in coastal Jackson County.

From 1857 to 1860 Brackenridge served as a Jackson County surveyor and when the Civil War erupted, he started trading cotton at Matamoros while his three brothers served on active duty with the Confederate Army.

Early in the war Brackenridge claimed Union sympathies and was banished from Texas. He became United States Treasury agent in July of 1863, and worked in New Orleans after that city was occupied by Federal forces.

At war's end, Brackenridge moved to San Antonio where he opened the San Antonio National Bank. He became president of the San Antonio Water Works, director of the San Antonio Express (the Express Publishing Company), served as a regent of the University of Texas from 1886-1911 and even found time to serve as president of the San Antonio school board.

Brackenridge, who never married, gave the bulk of his money (while living) to colleges and universities in Austin, San Antonio, Seguin and Galveston. He once proposed that the main campus of UT be moved to 500 acres on the Colorado River, which he had previously donated to the university.

Another gift was the park where his statue now sits. Incarnate Word College bought the Brackenridge home which it continues to maintain. He died in San Antonio in the last days of 1920 and was buried in the Brackenridge family cemetery near Edna.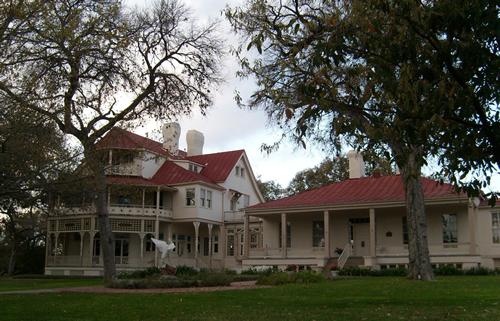 The Statue:

San Antonio sculptor Pompeo Coppini had only finished the plaster mold of the work at the time of his death in 1958. Adopted daughter Waldine Tauch negotiated with the city to bring the project to completion. The plaster was shipped to Italy for casting and when it arrived completed back in San Antonio, the city government wouldn't pay the $30,000 bill, but forwarded it to Tauch. Tauch and the previous mayor hadn't signed the documents, which left the statue in limbo. Citizens of San Antonio stepped forward and paid the money, allowing the statue to be set in place in 1970.

Information from A Comprehensive Guide to Outdoor Sculpture in Texas by Carol Morris Little.
See Statues in Texas
Unfortunately, the forehead of Mr. Breckenridge and the book he was holding were "tagged" on the day of the photo.
Photo courtesy Terry Jeanson