How the 1943 Roof of Mike Gaido's Drive In Helped Him Keep His Feet on the Ground

by Bill Cherry
In 1941 Mike Gaido and his brother Fritz moved to Houston from Galveston and with very little money, opened their first seafood restaurant, Gaido's on South Main. Their father, San Jacinto Gaido was the inspiration for the brothers' picking the fish business, since he had operated Gaido's Seafood Café on Murdock's pier from 1911, when he was 24, until he passed away in the summer of 1939.

While there was a good customer base for a Houston seafood restaurant, it didn't take Mike Gaido but two years to decide it was incongruous that an Islander was pushing fish dinners there when he could be selling them at the gulf's edge at home. So Mr. Mike sold his part of the Houston operation to Fritz, and he and his wife Kewpie came back to Galveston to start over.

Mr. Mike leased a small building at the corner of 39th and Seawall from John Paul and Josephine Deppen, and an adjacent lot from H.S. Autry. The Deppens owned a hamburger and Coney island restaurant next door to the building, and Autry owned the Southern Select Brewery, and the Triple XXX (root beer) Corp.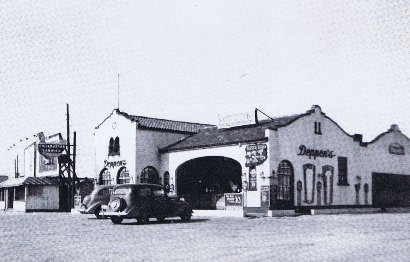 Deppen's, the building and location that became the first Gaido's.
Bill Cherry Photo
Mike Gaido's first business venture in Galveston was not a big and glorious seafood restaurant like it is today, but a drive-in. From that very meager, not much money invested business, grew the huge Gaido's property that you see today – two restaurants, a private club, a gift shop and a motel. And it's a business that has supported very well the families of three generations of Gaidos, and it will soon move to generation four.

Mike Gaido's sons Mickey, Wayne and John Paul (Paulie) are all fully retired from the business. However, Wayne is prepared for and took a real estate license exam, and Paulie continues studying theology at the University of St. Thomas. He's an ordained deacon of the Roman Catholic Church. Lynette, the youngest, is a high school Chinese teacher.

One drizzly and cold February day, one of Mr. Mike's old friend's son stopped in Gaido's for lunch. After the waiter had taken his friend's order, Mr. Mike said, to him, "Let's go over to the other side of the seawall. I want to show you something." So they put on their overcoats, Mr. Mike got them a couple of umbrellas, and they went across the street and then turned around and looked at the restaurant.

Where's this going? the fellow wondered. He was freezing and miserable. What about my broiled flounder? he thought. It's going to get cold.

"You see that hip roof that's up there above and tied-in to the gable roof?" Mr. Mike asked, pointing to a portion of the roof over the restaurant's entrance that had an entirely different profile from the rest.

"Well that's the roof of the original Gaido's Drive In building. I keep it there so that my friends, family and especially I can remember where it all started and how much work and saving and nights of being scared it took to get it to where my family's business is today.

You know Kewpie and I and the children lived on the property above the motel office until 1951 when we bought out first house on Crockett near you and your family.

"Looking at that hip roof reminds me to remain humble and thankful. Every person who is striving for success, one inch at a time like you and I were, needs his own 'hip roof' to look at from time to time. Let's go back to the restaurant. I'll be your broiled flounder is ready."

The Gaido family is a private one. I suppose it's genetic because as long as I've know them, and that's well over 50 years, none of them has ever liked attention. I wanted to tell you this story about Mr. Mike because I think it exemplifies the character and humility that he not only had himself, but shared with his own family, his friends and the community.

However, out of my deep respect and admiration for Mr. Mike, I knew I could never tell write the story without the permission of his children. So I am grateful that Mickey, Wayne, Paulie and Lynette had a family meeting and agreed to let me tell readers of TexasEscapes.com this wonderful story about their dad.

Like Mickey, Wayne, Paulie and Lynette and most of you, I love Gaido's, but quite frankly, it hasn't been the same for any of us since the hip roof was taken down, and Mr Mike's wisdom can now be heard only in our memories.

Bill Cherry's Galveston Memories May 1, 2010 column
Copyright William S. Cherry. All rights reserved
Bill Cherry's Galveston Memories