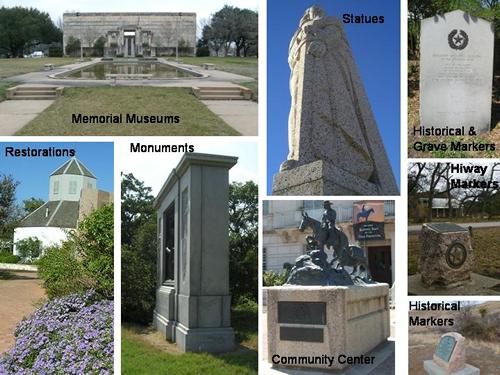 Introduction by Sarah Reveley
Most of us are familiar with those big granite markers with the bronze Texas star, but have no idea what a phenomenal project they represent.

Back in 1936 the State of Texas decided to hold a Centennial celebration, and like everything else Texas does, it was the biggest and best celebration of a Centennial the world has ever seen. 

The Exposition was held in Dallas, but the celebration itself involved another exposition in Fort Worth, and statewide celebrations including construction of  9 memorial museums, 5 community centers, 16 restorations of historical structures, 2 park improvements, 20 statues of  important Texans, and over 1,000 historical markers, grave markers, and highway markers.
Almost all of these items are still around, and thanks to recent acquisition of the 1938 book produced by the State of Texas, "Monuments Commemorating the Centenary of Texas Independence" we will be bringing the Centennial back to you. Our project will include maps with historical trails so you can celebrate the Centennial yourself.
To contribute to the Texas Centennial marker fund, send a check to
Friends of the Texas Historical Commission
P.O. Box 13497
Austin, TX 78711-3497
Put Centennial Marker Fund on the check somewhere.
The Double Barrel Discount by Barclay Gibson 6-12-12
40 or 50 years ago the Moss Spring Centennial Marker was easily reached from the north side of Moss Lake. It was a well known swimming hole during WWII where airmen training at the local Army Air Field came on weekends with their wives and girl friends to swim and hike to the distant Signal Mountain...
"I Want to See Your Machete" by Barclay Gibson 5-29-12
It was a momentous occasion for me... I was finally going to meet Ruthie Cade. Literally minutes before, I had been able to find, after a previous failed attempt, the gray granite Centennial Marker placed at the grave of Perry Alsbury in a hidden, overgrown area within earshot of I-10. That marker was the 1,089th marker I have seen of the 1,136 placed way back in 1936 to memorialize the multi-year celebration of Texas' Independence from Mexico. Here I was, after having seen nearly 96% of that total, meeting the one person who made a lot of that search possible.
Searching for the Pulaski Historical Marker by Barclay Bibson 9-6-10
Where to start describing how I visited the five foot tall granite 1936 Panola County Centennial Historical Marker for the defunct town site of Pulaski, former seat of Panola County?
Ignoring Warning Signs by Barclay Gibson 10-1-10
Searching for the "Buried Here"1936 Texas Centennial marker
"Warren Wagon Train Massacre"
Texas Centennial Celebration brochure & book cover. Courtesy Sarah Reveley
Custom Search