History in a Pecan Shell
Witting dates from 1831, when Edwin Richeson, received a Mexican land grant. Like much of the region, Anglo settlers moved west after the Civil War, selling their land to the recently arrived German immigrants. The nucleus of Richeson's former grant was a cluster or business (blacksmith, store and gin) that was named after prominent landowner George Witting.

The community was granted a post office in 1880 (which closed in 1906). While cotton prices were high, Witting thrived. A community hall was built in the 1890s. The Lutheran church was built in the late 1920s and a Catholic church in 1944. Witting was thriving in the early 1950s, with seven stores - even though the population was less than 100.

When cotton prices dropped and the gin closed its doors in the late 50s, the effect on the town was immediate. The school consolidated with those in Moulton and Hallettsville and today the only business left is a restaurant although the population is 90.
Visits to Witting: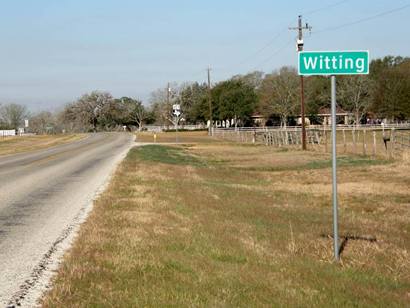 Photographer's Note:
Witting is on FM 1295 at FM 340. Rosie's Hideaway has been written up in several magazines as a place for good food. - Barclay Gibson, 2009
The only business left in town
Photo courtesy Barclay Gibson, February 2009
---
Texas Escapes, in its purpose to preserve historic, endangered and vanishing Texas, asks that anyone wishing to share their local history, stories, landmarks and recent or vintage photos, please contact us.