On May 18, 1951, the sounding of the city fire siren and bell gave residents of Olney, an oil and agricultural community, a five-minute warning that a tornado was coming. At the two school buildings teachers hustled students to the basement or ordered them to lie on the floor under desks. A few students suffered cuts from flying glass, but none was seriously injured. Two elderly people died when the tornado, sounding like "fifty freight trains coming in off the prairie" wiped out a two hundred-yard wide section of town. Only vacant lots, many without even a scrap of debris, remained where fifty substantial homes had stood only minutes before. Another fifty homes were damaged beyond repair. The National Weather Service retroactively rated this tornado an F4, with winds exceeding 200 miles per hour.


© Marlene Bradford
March 14, 2015 guest column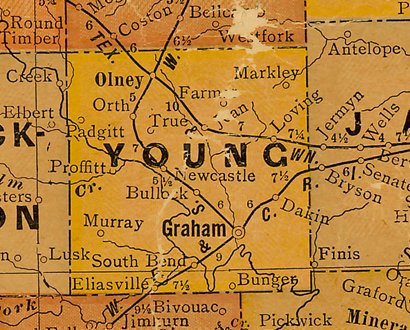 Texas Escapes, in its purpose to preserve historic, endangered and vanishing Texas, asks that anyone wishing to share their local history and vintage/historic photos, please contact us.
Custom Search