History in a Pecan Shell
The post office at Argo was established at Argo in James Rountree's store in 1885 (it remained open until 1907). The town had been settled only a few years before. By 1890 the town was a well established agricultural trading center. The naming of the town is something of a mystery.

Although the population dropped to only sixty-five Argoans by 1896, it increased to 131 by 1900 only to drop again. By the mid 1950s, the population dropped to only 30 and for the 1990 census it was only 26.
Grocery & Feed store
Photo courtesy Gerald Massey, September 2010
Argo Community Center on FM1001
Photo courtesy Gerald Massey, September 2010
Corrugated tin building
Photo courtesy Gerald Massey, September 2010
Argo, Texas Forum
Subject: Argo, Texas
I just wanted to let you know I live in Argo and have my entire life. I happen to know that one of the main families living in Argo, is the Cameron clan. Basically everyone in Argo is related to them, including me. The Rountree's of course did start it up. We have one small country store, as of late it is called Duncan's Grocery and Feed. We also have an Argo Community Center maintained by the community with Skippy and Lavonne Randle—my grandparents—overseeing the finances and maintenance. Additionally, we have many churches, and plenty of scenery to view. It is simply a mix of rural and peaceful land. It is definitely a place to escape the everyday society. Unfortunately, we do not have any hotels or places to stay, unless you stay with family members. - Tess Sharp, June 24, 2013

Argo Area Hotels > Mount Pleasant Hotels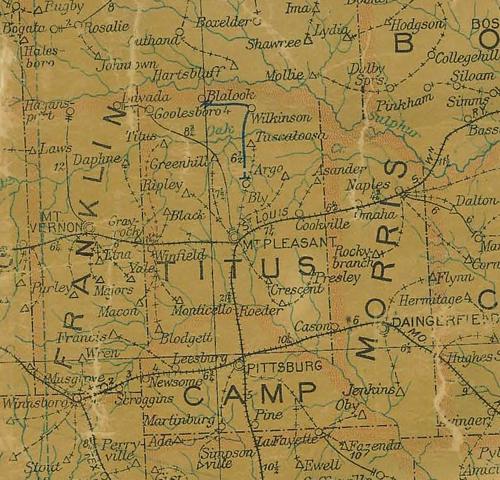 ---
Texas Escapes, in its purpose to preserve historic, endangered and vanishing Texas, asks that anyone wishing to share their local history, stories, landmarks and vintage/historic photos, please contact us.