Ol' Rip didn't want his fifteen minutes of fame. It was thrust upon him. He was Young Rip when he crossed paths with E. E. Wood, electrician and part-time cornet player with the Eastland Municipal Band. He was Ripley to his mother who had sent him to the store for a box of red ants.

Mr. Wood was on his way to the laying of the cornerstone for the new Eastland County Courthouse. The year was 1897 and people were starved for entertainment. So much so, that horned toads were regarded as pets. Even if they never brought the paper in or rolled over, people would watch their little wart-covered bodies sit immobile for hours. This was before Television, this was before Radio. Hell, if Edison hadn't invented the electric light, Mr. Woods wouldn't have been an electrician. Anyway, on the way to the festivities, Ripley scurried in front of Mr. Woods and changed his life forever. E. E. grabbed the unfortunate creature and put him in his pocket planning to present him to his sons at the end of the day.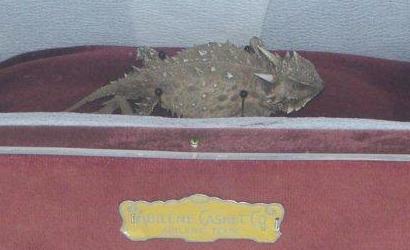 Close-up of "Ol' Rip," lying in state
Photo courtesy Terry Jeanson, January, 2007
Mr. Woods arrived at the site just in time to see the town fathers place various articles into the cornerstone/time capsule. Everyday items to be sure, but things that loomed large in the everyday lives of Eastland citizens. A few coins, a Bible, a newspaper and a bottle of whiskey had already been placed inside when the Mayor asked if anyone had anything else to contribute. Ripley chose that moment to scratch his little pointed head and Mr. Woods suddenly remembered he had something to offer. Everyone laughed when Ripley was lowered by his tail into his new home, for these were fun loving people who would've put someone's car keys in there, if cars had been invented. The cornerstone was sealed and Rip's mother and siblings starved for want of the ants Rip was to bring home.
The 1897 Eastland County Courthouse,
Ol' Rip's residence for 31 years
Postcard courtesy rootsweb.com/ %7Etxpstcrd/
Even in 1897 they didn't build things "like they used to" and 31 years later the courthouse needed to be replaced. When news of the demolition was announced in the paper, a now remorseful Mr. Woods reminded everyone that a horned toad had been placed in the cornerstone. This would be an opportunity to see if the Indian legend of the toad's longevity was true. Word spread and a crowd of 4,000 people showed up. Most of them left when they discovered it wasn't a hanging, but enough were there to witness Rip's resurrection. His seemingly lifeless body twitched and he seemed to inflate himself as he breathed the fresh air. Eastlanders went wild. Westlanders went wild. The bottle of 31 year old whiskey disappeared. Rip went on tour. He went to Washington D.C. and sat on the President's desk (This was Calvin Coolidge, a man only slightly more talkative than Rip), he went to St. Louis, he made public service announcements and endorsed tennis shoes. Robert Ripley (no relation) featured him in his "Believe It Or Not" column and newsreels showed Rip's face on movie screens across the land. Warts and all.

It's too late to make a long story short, so I'll leave out his kidnapping. Rip spent what were to be the last months of his life in Mr. Woods front window in a goldfish bowl sunning himself or burrowing in the sand. Rip had literally found his place in the sun. Neighborhood children caught red ants by the bushel for Rip. But in February a Norther blew in and the temperature dropped. While the Woods slept under quilts, Rip froze in the unheated front room. Eastland County wept. The Nation mourned. A casket company provided a glass case, a monument company a marble base, and a taxidermist performed the sad task for free. Like Lenin, Stalin and Ho Chi Minh, Rip was put on public display. (It was never proven that Rip was, or ever had been a party member). Eastland's favorite toad, the reptile that brought fame to a otherwise sleepy town can be viewed to this very day in the Eastland County Courthouse. (North side.)


© John Troesser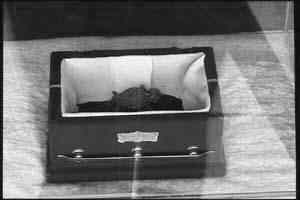 Ol' Rip lying in state
Photo courtesy of TXDoT
Editor's note:

As a public service announcement, we would like to point out that The Texas Horned Toad is an endangered species and should not be placed in cornerstones. It was this sort of nonsense that put them on the endangered list. Mere possession of one can result in a $500.00 fine and a second conviction can result in a 90 day jail term and a $1000.00 fine. If you are found with a horned toad and a Barton Creek Salamander you will be drawn and quartered by Clydesdale horses.

Additional note:

If this story seems vaguely familiar, you might remember the Warner Brother's cartoon from the fifties in which a bullfrog is awakened from a New York City building being razed and sings ragtime tunes while wearing a top hat and spats. It had to be Rip that inspired Chuck Jones and Tex Avery who no doubt would've remembered the newsreels from their childhood. Like the alligators in the NYC sewers, Rip is perhaps one of the very first "Urban Legends". As Michigan J. Frog, he continues to be used as logo/spokesfrog for the WB Television Network.
---
Readers' Comments:
"We enjoyed reading the article about Ol' Rip. My husband, Daniel Wood is the grandson of E.E. Wood., so we have heard this story first hand from Danny's father, Billy Blake Wood. Thank you again for interesting reading. It was nice to have proof to my co-workers that this is a true story." - Cindy Wood, 2001
---
---
Texas Escapes, in its purpose to preserve historic, endangered and vanishing Texas, asks that anyone wishing to share their local history, stories, landmarks and vintage/historic photos, please contact us.