---
---
---
---
---
Part of present day Houston was named Harrisburg during the fracas with Mexico. Harrisburg was burned by Santa Anna shortly before his defeat at San Jacinto. The town began in earnest in 1836 when two brothers stepped ashore from what is today the Houston Ship Channel. Allen's Landing is a few short blocks to Market Square, where nearly all of the historic buildings have been razed.
Strawberry Pickers near Houston
Bayou scene, Houston, Texas
Courtesy www.rootsweb.com/ %7Etxpstcrd/
The Wholesale Produce District, Houston, Texas 1910
Rice Hotel & Chronicle Building, Houston, Texas 1910
"The world famous Red Headed Widows of Houston, Texas, in front of the home of their creator, The Houston Post." Postcard circa 1910
Main Street Viaduct and Ship Canal, 1910
Bird's-Eye View of Houston, 1911
South Texas Commercial National Bank, 1913
The Heights Boulevard Trolley
The Houston Union Station, this is the largest terminal station in the southwest
Houston Station & Car. Galveston-Houston Interurban, 1914
Houston Theatrical District at Night
Schott's Bakery, 1924 Model T
TE archive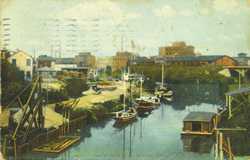 Houston Ship Channel
Postcard courtest Doyle Armstrong
---
---
Texas Escapes, in its purpose to preserve historic, endangered and vanishing Texas, asks that anyone wishing to share Houston vintage/historic photos, please contact us.
---
---