Books by
Michael Barr
Order Here:
Dreaming of a white Christmas? In Fredericksburg, Texas you're probably out of luck. There's a better chance that Congress will vote itself a pay cut. If, on the other hand, you want to spend the holidays in a charming town with a rich history of old-world Christmas traditions and more Christmas spirits than a Dickens novel, you've come to the right place.

Until recent times the kickoff to the Christmas season in Fredericksburg was St. Nick Day. St. Nick is a mythical character named for a real person who seems to have gotten lost in the hoopla of the modern Christmas celebration. In many regions of Germany, St. Nick, real name St. Nicholas - the patron saint of children, was a primary character of the Christmas celebration. He was not Santa Claus, and he arrived, in spirit, on December 6, the anniversary of his death in 343. The Germans brought the tradition of celebrating St. Nick Day to the Texas Hill Country.

Children in Fredericksburg would hang up their stockings the evening before St. Nick Day. A good child got a toy or fruit in his stocking. A not-so-good child got a stick.


Beginning in 1930, and continuing for the next half-century, The Fredericksburg Lions Club held a community-wide Christmas celebration on a weekend between St. Nick Day and Christmas. To start the evening the Lions Club lit the Christmas tree on the courthouse lawn. Then most of the town showed up at the high school auditorium for a concert. Church choirs from all denominations performed Christmas music. The program ended with everyone singing "Silent Night" and "God Bless America" accompanied by the Fredericksburg Concert Band.

In Fredericksburg, the evening of December 24 was "Santa's Night." That afternoon parents put up the Christmas tree and decorated it in a room closed off to children. Decorations included handmade paper ornaments, popcorn on a string, candles laboriously made by hand and maybe a few precious ornaments brought from Germany by the pioneers.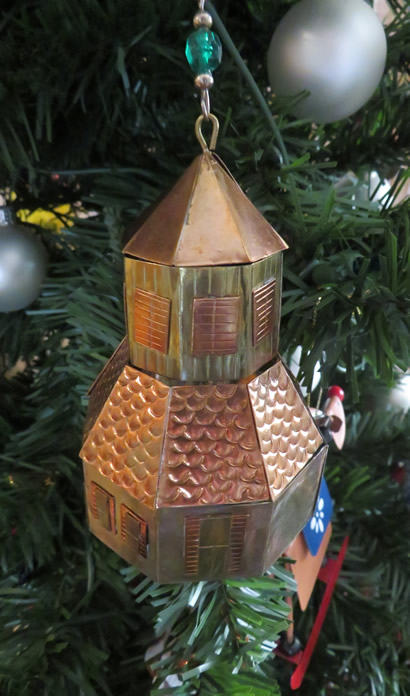 Christmas ornament
Courtesy Michael Barr
Then that evening, when everything was ready, the door opened and the children went in. The whole family sang Christmas carols around the tree. After the gift exchange there was a meal of dry sausage, cheese and cookies.

The tree stayed up until New Year's Day when parents took down the ornaments and carefully stored them until Christmas season came around again.

There was a time in Fredericksburg when every church in town rang its bells at sunset on Christmas Eve, following a German tradition that began in the Middle Ages.


On Christmas day, called the second day of Christmas, families went to church. Each church had a Christmas tree, decorated with candles. There were buckets of water nearby in case the tree caught fire.-

By the early 20th century many of the churches in Fredericksburg did 2 Christmas services; one in English and one in German. Bethany Lutheran would do the Christmas service in German and New Year's service in English.


On December 26, the third day of Christmas, the local Casino Club held dances and theatricals. There were dances that lasted most of the night at Turner Hall and at Peter's Hall.

The holiday celebrations ended with a Sylvester Dance on New Year's Eve at the Nimitz Hotel Ballroom or Peter's Hall. St. Sylvester was a 4th century Pope who died on December 31, 335. Many European countries held New Year's Eve dances, feasts and celebrations in his honor. The Germans pioneers brought the custom to the Hill Country.
Fredericksburg Marketplatz all lit up
Courtesy Michael Barr
Looking back I often think the old Germans did Christmas better than we do. Then I see a "Light the Night Christmas Parade," hear Handel's "Messiah" or walk through Marketplatz all lit up like Time's Square, and I'm pretty sure the old timers would approve.

The only complaint I hear about Christmas in Fredericksburg is the weather. A Fredericksburg Christmas might be as cold and damp as a reindeer's nose or warmer than chestnuts roasting on an open fire. When it comes to Christmas weather, we might get just about anything, except snow.