About the only thing Crystal City and Chicago have in common is that both places have a name starting with "C."

Actually, there's at least one other thing. Chicago is where E.C. "Elzie" Segar began his newspaper career. That was in 1914, when the Illinois-born Segar went to work for the Chicago Herald after taking a correspondence course in cartoon drawing. When the Herald went out of business, he moved over to the American to do a strip called "Looping the Loop."

Well-received in the Windy City, in 1919 Segar moved on to another big city with a nickname, Gotham. There, on the staff of the New York Evening Journal, Segar started a strip called "Thimble Theater." It soon went into syndication. By 1924, it was running in color in the Sunday comic pages.

Nicely alliterate as its name was, "Thimble Theater" still lacked a strong protagonist - no one like Charlie Brown, though he was years in the future in someone else's strip. But then, in early 1929, Segar either had a good idea or a lucky accident.

In the strip he drew for Jan. 17 that year, Segar had Ham Gravy and his brother-in-law Castor Oyl decide to engage the services of a crew to sail in quest of the legendary Whiffle Hen. Approaching a tough-looking, one-eyed seaman on the dock, Castor asks: "Are you a sailor?" To which the character with oversized, tattooed forearms replies: "Ja think I'm a cowboy?"

The sailor's name was Popeye. Oh, and Castor's sister was named Olive. Olive Oyl. When their adventure ended, Segar figured he didn't need a sailor any more. But not his readers, who demanded more of Popeye. Soon, the stringbean Olive Oyl tossed Ham for the pipe-smoking Popeye. And brother Castor was seen less and less.

Segar renamed his strip "Thimble Theater, Starring Popeye." Over time, "Thimble Theater" was forgotten and the strip became universally known as simply Popeye.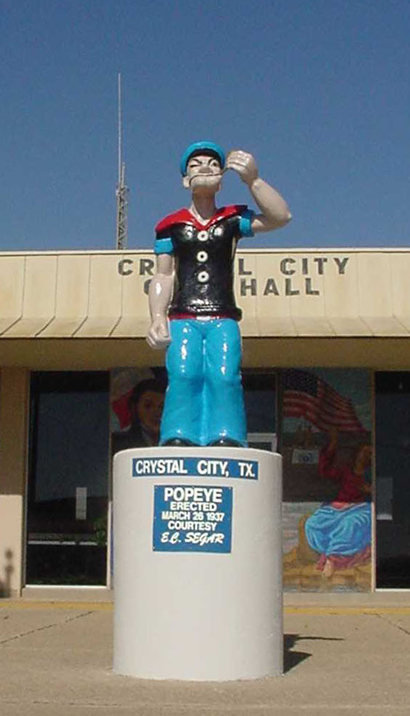 The statue of Popeye in front of Crystal City City Hall
TE photo, November 2001
Within eight years of his appearance in the newspapers, Popeye was immortalized in a small town only 50 miles from the Mexican border, Crystal City. Standing on a four-foot base, a six-foot concrete statue of the sailor was dedicated in Crystal city on March 26, 1937. It was the first statue of a comic character in the world.

But why Crystal City, where "ja" would think cowboys would be more popular than sailors, the closest port being Corpus Christi? The one-word answer is spinach. Popeye, as any Baby Boomer or older knows, drew his strength from spinach. So, too, does the Crystal City economy. Thanks to ample underground water and its sandy soil, Crystal City produces 80 percent or more of the nation's spinach crop.

That's how Popeye happened to come to Texas, but it's not all of the story.

The Victoria Advocate was the first newspaper in the nation to buy "Thimble Theater" when the strip went into syndication. When the newspaper put out a special historical edition in 1934, it featured a cartoon drawn exclusively for the Advocate. In it, Popeye said, "Please assept me hearties bes' wishes an' felicitations on account of yer paper's 88th Anniversity....Victoria is me ol' home town on account of tha's where I got born'd at."

So there it is, in black-and-white: Popeye, the Sailor Man is a native Texan. Now pass the spinach.



© Mike Cox
"Texas Tales" August 10, 2003 column
---