Mississippi Time Warp
Or
How to Tell Itta Bena from Nitta Yuma
Photos by Johnny Stucco
Captions by Luke Warm
MISSISSIPPI DELTA
It's been called "The South's South" and "Mississippi's Mississippi." It could also have the slogan: "The Delta: It's Not What You Think."

Please take a second to ask yourself what you think the Mississippi Delta is.

It's not that.

First of all, the name itself is a misnomer. It's not a Delta at all, but an alluvial plain. Sandwiched between the Mississippi River and the more tranquil Yazoo, the topsoil here is measured in fathoms not feet.

It has been said to begin in the lobby of Memphis' Peabody Hotel (watch out for the ducks) and end in Vicksburg. As flat as the Texas Panhandle, the Delta is full of surprises (some of which have teeth). Perhaps the biggest surprise of all is in the region's history. Anyone making the effort will be surprised at the strength, integrity and sensitivity of the people who came from there. (The region has historically provided a strong motivation to leave.)

The Delta is second only to New Orleans for being rich in names. Samples will be found in the captions of the photos that follow. The Delta is so lush that fence posts have been known to sprout. But that seldom happens because the economy is fenceless. Cotton stays in its horizon-reaching fields and catfish keep happily in their ponds.

Severely under-populated, the business districts of county seats are the opposite of bustling. It's easy to see the past here – especially the 40's and 50s. If you want bustle, you'll need to go back to the highway where the chain restaurants will roughly push you through their doors and back into the present. The Mom and Pop that used to run the café downtown are sitting at the table beside you.

Here the introduction ends and you are invited to drop in on the Delta the way we visited – unannounced.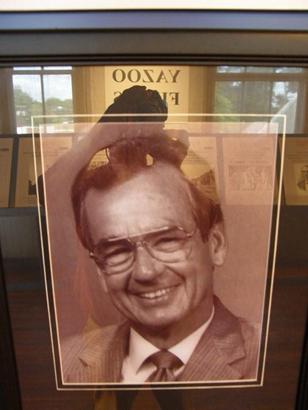 Refections of Yazoo City
Inspirational Motivator Zig Ziglar was Motivated to Leave
Pastel Yazoo –
To say nothing of the beautiful turquoise "Smoke-free Smokehouse"
Despite the court records to the contrary,
Clarkesville did not kill Vaudeville.
"Old times there are not forgotten."
Bullet Hole in Confederate Statue
Belzoni
The Masonic Lodge as Theater
Leland
Airbrushed County Map on Defunct Business
Waynesboro
The Old South Preserved
Fayetteville
Timeless Tomatoes
"They taste as good as they look."
Crystal Springs
How Main Street Can You Get?
Brookhaven
Mississippi Sunroof
Greenville
An Unpopular Opinion
Lake Providence, Louisiana
Trend-setting Apostrophe
Leland
Unknown Defunct Gas Station
Amory
Bankers Look at Education and Are Not Pleased
Greenville
"They had heard it was there, but upon discovery they found themselves speechless." –
Vicksburg Mural of Teddy Roosevelt's Bear Hunt
The Southern Grill as Tyrone's Sports Bar
Leland
Standing Over Roebuck Lake – Itta Bena
Railroad Bridge over the Homochitto River
Old Highway 61 looking Toward Chicago
City Limit with Insect Trap
Panther Burn
"We'll keep the light on for you."
Nitta Yuma
B.B. King remembered on his "favorite corner."
Indianola