Waxahachie Landmarks/Attractions
Waxahachie has 227 properties listed in the National Register of Historic Places. This is 20% of the Texas entries in the Register.

Chautauqua Auditorium in nearby Getzendaner Park. The era of self-improvement provided a money-making opportunity for promoters and speakers in the late 19th and early part of the 20th Century. This structure was built in 1902.

On the square you will find the Ellis County Museum in a beautifully restored building at 201 South College. Be sure to examine the detail on the front door hinges. Like most museums, this one has a lot of old things, but here they are in better condition and the individual items are a little more unusual. Check out the cotton bale scale. The gift shop has an excellent book of historic Ellis County photos, including the railroad yards at Ennis.

At 515 West Main you will find the Nicholas P. Sims Library. Sims was a farmer who donated funds for the library which was built in 1902.

On the NE corner of the square is the recently restored Rogers Hotel. Patrons could sleep on the rooftop during summer months, and there was a natarorium in the basement. Northern baseball teams like the The Detroit Lions and Chicago White Sox would winter here.

Waxahachie Hotels > Book Here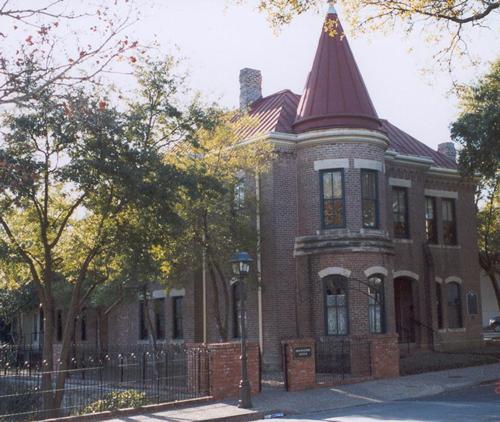 Photo courtesy David Cole, October 2012
History in a Pecan Shell

The county was named after Richard Ellis, who presided over the 1836 Texas Constitutional Convention.

The city was named after nearby Waxahachie Creek, a Tonkawa Indian word for Buffalo or Cow.



Richard Ellis monument on lawn of Ellis County Courthouse
October 2002
Copyright Sam Fenstermacher
Waxahachie History


Waxahachie:
Where Cotton Reigned King
by Kelly McMichael Stott
Photographs Courtesy of
The Ellis County Historical Museum
Arcadia Publishing's
The Making of America Series.
December 2002
Photo courtesy John Stankewitz
Waxahachie Stories
"People & Places of Ellis County"
Jeanne Moseley's Column : "Good Day for a Story":
Jeanne is host of "People & Places of Ellis County"
Friday mornings at 7:00 AM on KBEC Radio 1390 AM

Chautauqua by Bob Bowman
Dominating Getzendaner Park in Waxahachie, a large wooden, octagonal-roofed pavilion stands as a symbol of entertainment and enlightment in the days before movies and television...


People

Richard Ellis by Mike Cox ("Texas Tales" Column)
His imagined likeness stands frozen in bronze outside the courthouse of the county bearing his name, but Richard Ellis is a long way from being one of the more-recognized figures in Texas history....

Waxahachie, Texas Forum
Subject: Waxahachie SuperCollider
Waxahachie definitely deserves a weekend visit. The chamber can furnish you with information on the courthouse, historic home driving & walking Tours, the annual Gingerbread Trail Home Tour in June, and a map of local homes and buildings and the movies in which they appeared.
Waxahachie Tourist Information
Waxahachie Chamber of Commerce - 102 YMCA Drive
Phone: 972-937-2390.
Website:www.texasusa.com/waxahachie

Waxahachie Hotels > Book Here
Custom Search
Book Hotel Here - Expedia Affiliate Network