"The Oriana Camelback Truss Bridge" by Ina Mae Godfrey, 1996
Photo courtesy Jean Collom Bachman
The painting of the "Bridge" was painted especially for me by Ina Mae Godfrey. She has since passed on as well as her daughter, Jimmy Dale Godfrey Teel. I told Jimmy Dale, one of my class mates, that I was hoping the painting will be included in the memory book for the Peacock Alumni Homecoming.

She was touched that I wanted to use the copy! Jimmy has 2 brothers that still live in Stonewall County....Syl and John Ray Godfrey. John Ray is the Superintendant of Schools at Aspermont. Syl is now a retired farmer and has moved into Aspermont. They had to cross the Old River Bridge at least two times a day...in the mornings to go to school and in the evenings to go home.

Ina Mae started painting late in her life and I think she did quite well. She painted several things for my Mother and gave me a choice of the drawing of the Double Mountains or one of the Old River Bridge. I selected the bridge!

Ina Mae and my Mother, Helen Collom Rutherford, were very best friends for so many years. They were neighbors on adjoining farms when they were pregnant with Jimmy Dale and me....so the Godfreys have been in my life...all of my life! Our Dads, Olen B. Godfrey and Ross Collom, were great friends, too.

That Bridge has wonderful memories for me and other students! When I was a child, we had school field trips there for Easter Egg Hunts and end of school parties. Senior classes always went to gather the "River" flowers to decorate the stage for graduation or other recitals, etc! I shall never forget the pale lavendar flowers along with salt cedar! At least the price was right and they looked fairly well. Plus...most of us did not know the difference at that point in our life!

I also remember the old Bridge ...sort of under it as being a good place to park. Many of the high school students thought so too! When I was a student at University of North Texas, I learned to do the twist and no one in Peacock had heard of the "new" dance! While home on vacation, I took about four of the Senior boys out to the bridge, we turned up the music, turned on the car lights and I taught them to do the twist! One of the young boys was Carl McMahon....Delores McMahon Mile's brother! There was not a great deal of traffic at night, thus, we could easily dance on the old bridge. Many of us regularly danced a great deal on the Bridge. Our Baptist Preacher always knew when we attended regular dances and he never failed to give us a lecture in Church! (His daughter was in high school with us and always tipped him off).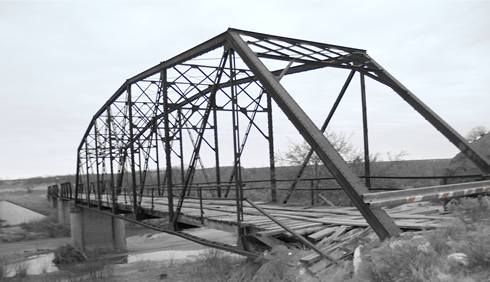 I have not been back to the site of the Bridge in some time. I understand there have been many changes. I plan to go there when I return to the next Peacock Classes and Community Reunion on July 13 -15, 2007. As a travel agent, I have had the opportunity to travel and see most of the world. However, two of the sites that are the most dear to me is the memory of the Double Mountains and The Old River Bridge! In summary, I love my roots! - Jean Collom Bachman, January 28, 2007
---