"I think this is one of the first, if not the discovery well on my grandfather's farm." - John Keith
Subject: Desdemona, Texas
Dear Texas Escapes, I don't know if this is true or not, but have heard my aunts and my grandmother talking on many occasions. One of the stories was that when the first oil well was being drilled out in front of the family farmhouse they suddenly stopped drilling. The man in charge went to town to inform the company that it was a dry well. Supposedly, my grandfather [Joe Duke] told the crew remaining that if they would keep on drilling and hit 'pay dirt' he would buy each of them a new pair of cowboy boots. They started back to drilling and a few minutes later oil started shooting up over the top of the derrick. A gusher!

That may be true, but it may also be another Texas tall tale.

What I do know for sure is that my grandfather Duke was at one time known as Texas' youngest millionaire. A few years later he had no money left and was a pauper at the time of his death.
- John Keith, April 24, 2007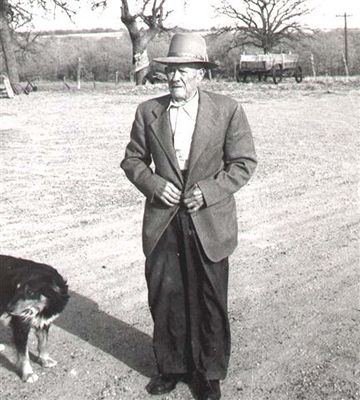 This picture was taken where Joe Duke was living (on the same farm that oil was discovered in 1918) in the late 1950s.
"[My grandparents] Joe Duke and Almeda... taken when they were married or shortly after." - John Keith
Texas Escapes, in its purpose to preserve historic, endangered and vanishing Texas, asks that anyone wishing to share their local history, stories, and vintage/historic/contemporary photos of their town/subject, please contact us.
Custom Search
Book Hotels - Expedia Affiliate Network