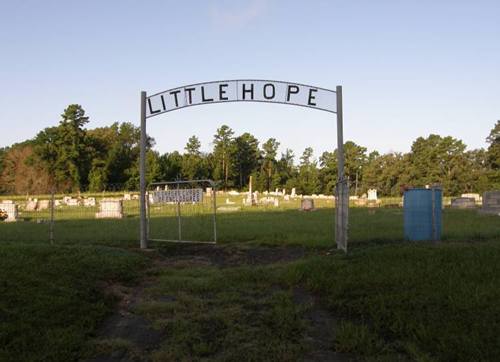 Population: church congregation only

History in a Pecan Shell

The "community" dates from the 1850s and the Handbook of Texas states that the first school was taught (by fifteen-year-old Emily Smith) in 1857.

Little Hope never had a post office and the only population figures date to the late thirties when the population was a mere 10 persons.

The name, according to legend, comes from the belief that the Missionary Baptist Church organized here in 1881 had "little hope" of lasting a year.

The history of the community is in fact, the history of the church.

The first meeting was near "The Murphy graveyard." The church later shared a two-story building with a Woodmen of the World lodge which disbanded in the early 1920s.

Little Hope was included in the Common Ridge school district,

Throughout the 1960s, many houses in the area were abandoned, while the congregation of the church increased to over 100. The church inherited the bell from the Common Ridge school, erecting a belfry to hold it.

The church was still active when it received a historical marker in the 1980s.
Little Hope, Texas Forum
Subject: Info on Little Hope, Wood Co. Texas

Just a comment about your article on the Church and the Murphy Graveyard there in Little Hope, Texas. The cemetery mentioned was actually the "New Murphy" cemetery. This land was donated to the church for a location to build the new community church, and cemetery. This land was given by my G-Grandfather, William Patrick Murphy. The "Old Murphy" cemetery was on land near the dam site of the old Stinson Pond that was sold off to new comers to the area such as the Blundell's, Daniels, Robbins and the Burnett's. The "Old Murphy" cemetery was never used again for public use and was lost forever with the building of the Quitman-Gilmer highway CR-154 in the early 1940's. I believe that the plots were graded away in the area on the north side of CR-154, just east of the dam for the state easement rights. I personally know of about 6-8 Murphy family members that were buried there. It is also thought to have other members of families living in the area such as the Daniel family, one of the other early pioneers to this area. The first of family to be buried in the Old Murphy Cemetery was Mary Emily Murphy Bagby in 1876 and the last was William Patrick's Mother, Charlotte nee Brown in December of 1913. She was buried beside her husband, William Murphy, who was buried abt. August of 1880. William, Charlotte and their first 3 children, James L., Mary Emily, and Nancy Elizabeth came to Wood Co. Texas from Fayette Co. Tenn. in the early spring of 1851. William grew the usual crops of the area, corn and peaches, but also went on to build one of the first syrup mills in the area near the banks of Big Sandy. The Murphy land has remained in the family for many generations from 1851 until 2005 when the last of the Wood Co. family succumbed. - B. Murphy, March 16, 2008

More stories: Texas | Magazine | Texas Towns | Ghost Towns | East Texas |