"City Drug Store Fountain, Aransas Pass, Texas"
Postcard courtesy www.rootsweb.com/ %7Etxpstcrd/
History in a Pecan Shell
A timeline of significant events and milestones:
Originally the plan was for a deep-water port connected to San Antonio by a railroad and turnpike. But with false starts, delays, the Civil War and other setbacks, the port didn't become a reality until 1907 after the U.S. Army Corps of Engineers dredged a deep channel and installed jetties.

Initial town lots were sold by lottery to people in the Midwest wanting to relocate to the coast. The sale was a success, although the government needed to adjust some of the rules.

1892: Methodists erect combination church and school - post office opens
1910: City incorporates
1911: two-story brick school is constructed
1912: Town celebrates shipment of 47,093 bales of cotton in a two week period.
1916: Hurricane strikes
1919: Second Hurricane strikes - seawall is constructed
1920: Corps of Engineers announces that Corpus Christi had been chosen as major deep water port
1926: Corpus Christi opens port facilities

After World War II, the shrimp fleet moored in the area became the largest on the Gulf coast.

The city remains one of the more popular vacation and fishing destinations on the coast.


Aransas Pass Landmarks/Attractions
Photographer's Note:
"Hwy 35 through town is Commercial Street and Hwy 361 is Goodnight Street. At this corner and Catty-Corner from HEB is this old hotel shown. The view shown is the Goodnight Street side. Eating at the Bakery Cafe (est. 1929) the waitress said she had been in the hotel 2nd floor and it is still in the "rooms configuration" as when it was a hotel, but it has not been functioning for many many years. The 1911 school you describe is now the school administration building and close examination of the brick laying is interesting." - Ken Rudine, May 30, 2004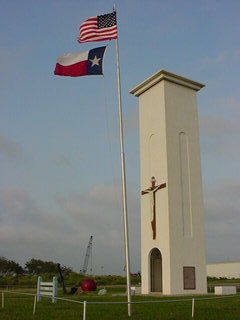 Seaman's Tower
Photo courtesy of Ken Rudine, May 2004
Seaman's Tower interior
Photo courtesy of Ken Rudine, May 2004
The 2-story old brick hotel on Goodnight Street
Photo courtesy of Ken Rudine, May 2004
The old School Building, now the school administrations building
Photo courtesy of Ken Rudine, May 2004
Shrimp boats in Conn Brown Harbor
Photo courtesy of Ken Rudine, May 2004
Aransas Pass Seawall
Photo courtesy of Ken Rudine, May 2004
Another view of the Aransas Pass Seawall
Photo courtesy of Ken Rudine, May 2004
"Commercial Street, Aransas Pass, Texas"
Postcard courtesy www.rootsweb.com/ %7Etxpstcrd/
"Commercial Street looking southwest
from Wilson Avenue, Aransas Pass, Texas"
Postcard courtesy www.rootsweb.com/ %7Etxpstcrd/
Bakery Cafe on Commercial St.
Photo courtesy of Ken Rudine, May 2004
Custom Search
Book Hotel Here - Expedia Affiliate Network