Loyola Beach vegetation
TE Photo, 2001
History in a Seashell

Our text entry for Loyola Beach is in the form a letter we received from a descendant of the man Loyola Beach was named after. The letter follows:

"I am the descendent of Remlinger Underbrink. My great great grandfather was the one who drew the floor plan for the Church at Vattmann. The name of the Church is Our Lady of Consolation Church. Ignatius Underbrink (grandfather) was the architect. Orlando Underbrink (great uncle) built the three solid oak altars.

Loyola Beach was named after my grandfather Ignatius Loyola Underbrink. My great uncle Orlando Underbrink built the Cafe at Loyola Beach which at that time was called Orlando's Cafe. In 1945 he leased the Inn and opened a restaurant specializing in fish and chicken.

Further down South Texas nearly at the end of the King Ranch near Raymondville, my Dad's brother-in-law and nephew went duck hunting behind the King Ranch in the 40's and they disappeared. To this day they have never been found." - G. Walker, February 19, 2003


Editor's note:
The disappearance of the two men mentioned above has become one of South Texas' most enduring mysteries.

Texas Escapes, in its purpose to preserve historic, endangered and vanishing Texas, asks that anyone wishing to share Loyola Beach history and/or vintage/historic photos, please contact us.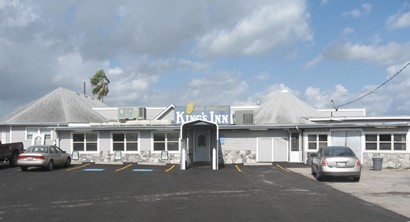 Kings Inn Restaurant in Loyola Beach
Photo courtesy Gerald Walker, October 2007
Wedding photo of Orlando Unterbrink and Mammie Remlinger.
Orlando Underbrink was the man who built the King's Inn Restaurant.
Photo courtesy Gerald R. Walker
Seagulls in Kaufer-Hubert Memorial Park
TE Photo, August 2000
The commercial district of Loyola Beach
TE photo, 2001
Loyola Beach, Texas Forum
Loyola Beach and Riviera
Upon reading your article regarding Loyola Beach and Riviera, I noticed it was written by a Wayne Simms. As I remember, Wayne was stationed at site 55 in Riviera, in the Navy base located in Kingsville. I corresponded with him while he was stationed in Alaska. Then, I lost track of his whereabouts. He was a family friend. He would have known me as Lynda or Lynn Pace. My mother, Gracie, owned the Ranch Cafe in Riviera. By the way, my Mom owned, operated, and named the original The Green Frog, and coined the phrase, "Service with a hop!" I would be inerested in knowing if this is the same "Wayne Simms" I knew. I write prose and poetry, jingles and songs, and a few articles, all about Texas. In fact, I am now in the process of developing the old "Hitching Post," of which you showed a picture. You ought to see it now! ... Thank you.- Lynn (Pace) Sasser, August 11, 2006


Subject: Loyola Beach ...from about March, 1961 through March. 1962, I was in the US Navy stationed at the Riviera Beach Radar Site #55. We made excursions, when we had money, to all of the local communities. Riviera and Luke`s HWY 77 Bar...most of the floor was gone from it...a Mexican bar just across the tracks, 2 restaurants, neither of which I can remember the name of. The one on the north side of town was owned by 2 sisters, I believe, and other relatives of theirs were always there, including the two brothers/cousins? who operated the gas station/garage. A one room barber shop next to Lukes, in about the same disarray. The grocery store, owned by a man whose son was a star football player for Riviera High School. The other restaurant, operated by a lady and her boyfriend, mostly a BBQ joint, located on the South end of town. Riviera beach, a bait stand and beer joint, operated by a treasure hunter, his wife and about 5 kids. Their last name was Brown.... Vattman, or Loyola Beach, as we called it..Henry Kush, his wife and ex-wife operated The Green Frog, sold and drank lots of beer..and Henry and his red headed British wife could cook just about anything. And cook it good. The Bayview Inn, on the water, mainly a beer joint, the little Trading Post, and, of course, The King`s Inn which had about the best sea food I have ever eaten. The rest of the village was a collection of dilipidated tourist "courts", a rusted trailer or two and a few homes here and there. I had a fine year there, even if I can`t remember the names. The school principal`s mother lived out near the Site and would bring us fresh grapefruit from her trees.... - Wayne Sims, October 10, 2004

Special thanks to Mr. Walker who furnished these details of the area's history.