HIGGINS, TEXAS
Lipscomb County, Texas Panhandle
Highway 60, FM 1453 and FM 213
2 Miles from the Oklahoma State Line
20 Miles SE of Lipscomb
66 Miles NE of Pampa
Population: 425 (2000)

Higgins, Texas Area Hotels > Pampa Hotels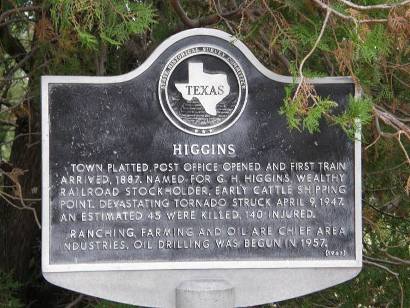 History in a Pecan Shell

The area has a history of Franciscan monk Juan de Padilla operating a mission for the Indians here in the mid 1500s, although a site has not been found. More recent history begins in 1886, when the Santa Fe Railroad started surveying the site for an extension of the line coming out of Wichita, Kansas.

B. H. Eldridge and E. B. Purcell are credited with platting the town which they named after Santa Fe stockholder G. H. Higgins of Massachusetts. A post office and school opened in 1888 and most essential businesses soon followed, making Higgins a cattle shipping point.

Prior to becoming famous, Oklahoman Will Rogers worked on the Ewing family's Little Robe Ranch in the 1890s. Without a doubt, the young cowboy practiced and perfected his fancy rope tricks here before he joined the famous Ziegfeld Follies.

The town had its first newspaper published in 1888 which sold out in 1897 to the "now defunct" Higgins News.

On April 9, 1947, the event that was to become forever linked to Higgins occurred. A tornado or tornadoes approached Higgins from the south, after first hitting Glazier, Texas. Forty-five people lost their lives as the storm continued up into Oklahoma and even into Kansas.

Early records aren't available, but the town had a population of just over 700 in the mid 1980s. By 1990 it was down to 464 and has declined further to 425.

Will Rogers Day, introduced in 1962 continues to be an annual event.

See
Higgins Historical Marker
Higgins 1947 Tornado Vintage Photos > next page
More Higgins Vintage Photos > next page
Higgins was Stage Station by Delbert Trew > next page
Higgins Landmarks & Images
Will Rogers Historical Marker
Photo courtesy Barclay Gibson, July 2009
The progression from The Commission Creek Stage Station in 1874 to the modern-day town of Higgins is an extremely interesting saga of Panhandle of Texas history. See
Higgins, Texas Forum
Glazier and Higgins Tornado of April, 1947
Dear TE, The recent pictures of the Greenburg, Kansas tornado brought back memories of the tornado that hit Hemphill County back in 1947. I was 12 years old on April 9, 1947 when I witnessed the tornado that hit Higgins and Glazier. It was just southwest of the airport at Canadian, Texas, where my father Thomas L. McCurdy was the airport manager. The tornado was so large that there were five or six smaller twisters circling the main column. The tornado was so close that the air seemed to be all sucked up. It was such weird feeling. The main tornado lifted as it crossed the South Canadian River but went back on the ground after reaching the north side. We were so frightened by it, that we talked about it for hours after it had passed. The next morning someone was banging on the door at the airport. The man who ran the paper at Canadian was saying that Glazier was wiped out. My dad flew the photographer over the area and took the original pictures of the devastation. After returning to the airport, my dad flew back to Glazier and landed on the highway to pick up two of the injured and bring them back to the Canadian hospital. He remained in that plane for the next two days flying people from Higgins and Glazier because the highway from Canadian to Higgins was impassable. All the barbed wire and telephone/ telegraph lines were twisted together and wove back and forth on the highway for many miles. Cars couldn't drive over it because of the barbed wire, so Dad's airplane was the main lifeline between Canadian and the other two towns. On the second day the Army flew in with stretcher planes and helped. Dadís plane was a Stinson Voyager with a stretcher in it. He could carry one in the stretcher and one in the back seat. I donít know how many trips he made but I know he was in the airplane for two solid days. The local gasoline dealer brought kerosene smuge pots to the airport and lined both sides of the runaway. They did the same in Glazier and Higgins and he flew all night long to bring the injured to Canadian. The basements of the Baptist and Methodist churches were filled with injured people after the hospital had run out of room. The high school gym was also used. Even though I was only twelve at the time, my memories of that event remain vivid. - Otto W. (Bill) McCurdy, Houston Texas, May 14, 2007


Texas Escapes, in its purpose to preserve historic, endangered and vanishing Texas, asks that anyone wishing to share their local history and vintage/historic/contemporary photos, please contact us.
Custom Search