Some of the happiest times that I can remember growing up in Mineola, Texas was during the period that I worked for Mr. Robert Hooks. He owned 2 "Picture Shows", The Select and The Leroy. The job consisted of popping corn and selling candy and other confections at the snack bars. I got the job through the misfortune of a friend of mine, Bill Alexander. One day Bill was opening the candy counter for business and was in the process of raising a window when if fell off of it's hinges and broke. Bill's arm was cut severely and he had to be taken to the hospital. I happened to be standing around waiting for the show to open, and was asked if I wanted to work there. I was thrilled with the idea of working at the movies.

This meant that I would get in to see the movies free and would also make some extra money. This started a career that lasted about 3 years, and one that would offer many opportunities to meet lots of interesting local folks. The time period was during 1951 - 1954. I can remember when the Select was remodeled and was one of the finest theatres in East Texas. It had all new modern theatre seats, a "Cry Room" that could be used for crying infants, and it also had a tall neon tower that could be seen for blocks.
The Select Theatre in Mineola
Photo by Darrell Loyd
There are numerous things I remember about the Select, such as the "Mid-Night Shows" every Saturday night and the year (1950) it hosted the world premier for a movie that was filmed in Lindale titled "Strike It Rich" staring Rod Cameron and Bonita Granville. I recently passed through Mineola and stopped in front of the Select and took some pictures. I was happy to see that it still looks as good today as it did years ago when it was remodeled.


© Darrell Loyd
New Orleans, La
May 21, 2005
The Select Theater Historical Marker
Photo courtesy Lori Martin, August 2012
Editor - The Select Theatre is the last remaining movie house in Wood County. Weekend movies and performances by The Lake Country Playhouse insure that the 70 year old business stays an active part of the community.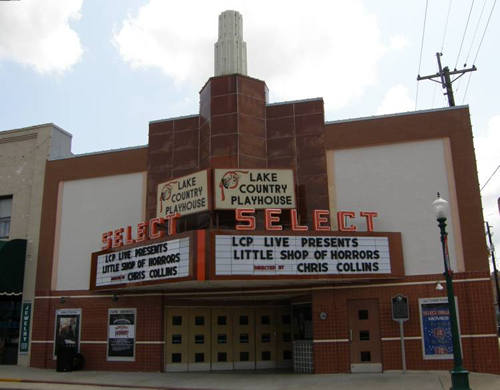 ---
Subject: Sissy Spacek @ Mineola
One other note on Sissy Spacek: There was a write up in the Dallas Morning News one time telling the story about the closest movie theater to see her movies was the Select Theater in Mineola. The funny thing was that the Select Theater didn't have enough Ss to spell her name on the Marque out front. So, her name never was spelled right. I have lived in and around Mineola since the mid 60s. My dad worked for the Texas and Pacific Railroad which became the Missouri Pacific Railroad and is now the Union Pacific Railroad. He started to work for the railroad when he was 18 years old. He is now 67 years young and still riding the rails....I keep asking him when he is going to retire, and he always says "Oh, maybe after another trip or two" - James C. Neal, Mineola, TX, August 13, 2005