History in a Pecan Shell

Begun as a Quaker Colony in 1879 by Indianan Paris Cox, the town was first named Marietta for Coxís wife Mary. Cox had traded his sawmill back home in Indiana for land in Crosby and Lubbock counties and built a sod house here. Other settlers endured their first Texas winter in tents and it turned out to be their last Texas winter as well. The Cox family remained and brought in a crop, which enabled them to recruit more settlers. The town had a primitive school taught in a dugout in 1882 and two years later the town was granted a post office. At this time the name was changed to Estacado. The residents built a meeting house in 1884 and classes were moved there.

From its inauspicious beginning, Estacado became Crosby Countyís first seat of government in 1886 despite itís off center location. The number of residents was given as 200 by 1890 but when Emma, Texas took the county seat status of Estacado in 1891, the writing was on the wall. Paris Cox had died in 1888 and no one shared his vision or attempted to steer the community through the hard times.

The final straw came in a plague of locusts combined with a drought. Only a handful of people remained. The Society of Friends had left the town but things improved slightly as the 20th century made its appearance.

The post office shut its doors in 1918 and mail was routed through Petersburg. The 1930 census reported just under 70 people living in Estacado and ten years later it was 80. That same number has been in use through the year 2000.
A Drive Around Estacado:
Photographer's Note:
T. Lindsay Baker has Estacado listed in one of his Ghost Town books. There are a few occupied dwellings. The Gin looks operative. - Barclay Gibson, July 2009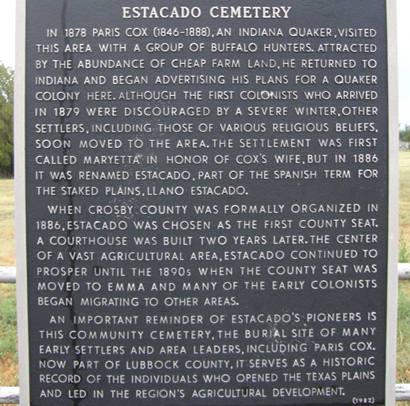 Historical Marker Text
Estacado Cemetery
In 1878 Paris Cox (1846-1888), an Indiana Quaker, visited this area with a group of buffalo hunters. Attracted by the abundance of cheap farm land, he returned to Indiana and began advertising his plans for a Quaker colony here. Although the first colonists who arrived in 1879 were discouraged by a severe winter, other settlers, including those of various religious beliefs, soon moved to the area. The settlement was first called Maryetta in honor of Cox's wife, but in 1886 it was renamed Estacado, part of the Spanish term for the Staked Plains, Llano Estacado.

When Crosby County was formally organized in 1886, Estacado was chosen as the first county seat. A courthouse was built two years later. The center of a vast agricultural area, Estacado continued to prosper until the 1890s when the county seat was moved to Emma and many of the early colonists began migrating to other areas.

An important reminder of Estacado's pioneers is this community cemetery, the burial site of many early settlers and area leaders, including Paris Cox. Now part of Lubbock County, it serves as a historic record of the individuals who opened the Texas Plains and led in the region's agricultural development.
(1982)
1907 postal map showing Estacado in Crosby County
(NE of Lubbock. Above "C" in "C-R-O-S-B-Y")
Courtesy Texas General Land Office
Estacado, Texas Forum
Subject: Conway and Estacado
Town dried up after Interstate 40 routed a half mile north. My distant cousins' family operated the motel, er, tourist court, there as well as a cafe. Cousin Johnny made spare change at the filling station running a wrecker service on Route 66. He chargesd rich folks plenty, but a family in need he didn't charge at all.

I missed Estacado. It's still there on the Crosby/Lubbock county line, and was once a county seat for many counties back when. Gin still operating with maybe 5 or 6 homes still occupied. Once a quaker settlement named Marietta.

Thanks for an interesting [magazine]. Keep up the good work. - Benny Poulson, Ralls, Texas, September 12, 2006