ALLAMOORE, TEXAS
31° 4' 41" N, 105° 0' 13" W (31.078056, -105.003611)
I-10 / Hwy 80
11 miles W of Van Horn
22 miles SE of Sierra Blanca the county seat
at the foot of the Carrizo Mountains
Population: extremely scattered

Book hotel here › Van Horn Hotels
Cactus and former church in Allamoore
Photo Courtesy Jason Penney, 2001
More Texas Churches
History in a Pecan Shell
Allamoore in 1884 was named Acme (not to be confused with the ghost town in Hardeman County).

The post office under that name closed in 1886.

No one knows for sure how the town got its name, but it may have had something to do with the first postmistress - Alla R. Moore who reopened the post office in 1888. By 1900, 200 people were coming into Allamoore to pick up their mail - from Alla Moore.

Plato and H. C. Clifford, owned and managed the Hazel Mining Company, across the county line in Culberson County. At one time the Hazel Mines were the most productive silver and copper mines in Texas.

The post office closed again in 1895, but after another two years of no mail, they opened another post office, retaining the name Alla Moore.

Only ten people occupied the town in 1914 and in the mid-1920s it had swollen to 25.

Fifty more people squeezed into town just in time for the Great Depression - making Allamoore a metropolis of 75. Within five years fifty people left Allamoore, but it can't be said for certain they were the same 50 late arrivals.

Five miles east of town Gifford-Hill and Company operated a business in the late 30s. They owned a lot of crushing equipment and in searching around the area for something in abundance that could be crushed - they wisely decided on rock. Detailed maps of the area still show the word "crusher"and a crossed pick and shovel.

The population never broke 100 and from the mid-1940s to the mid-1960s it remained fairly constant at 75.

According to local folklore - a rancher once paid a teacher to occupy the otherwise empty school "just in case a student happened to walk in."

Two companies producing Talc opened one in 1960 and one in 1971. The second one closed within a few years and the Gifford-Hill rock-crushing business closed in the early 1980s.

In 1988 the Allamoore school had only eight children enrolled for it's 2,100 square mile district - making it the smallest enrollment in the entire state.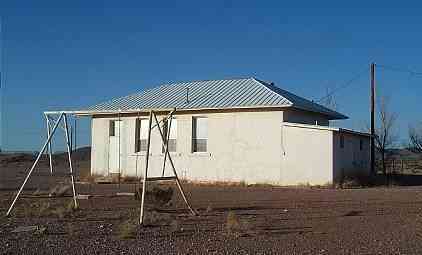 Forum:
Subject: Allamore School
"The rancher who paid for the yearly teacher salary and expenses of keeping the doors open at A.C.S.D. (Allamore Consolidated School District) name was W.D. Garren.

The spring of 89 the total attendance was 2 students:
A boy in kindergarten. K. King
Also a 5th grade student. J.E. Garren
Teacher. Mrs Brownfield

Just wanted to let you know that it was factual information not just rumor. The rancher in question paid to keep doors open when there was 0 students or as many as 8 students.

Thanks for all you are doing to preserve the fast disappearing history of West Texas." - Marya Garren, May 05, 2017
---
Texas Escapes, in its purpose to preserve historic, endangered and vanishing Texas, asks that anyone wishing to share their local history, stories, landmarks and recent or vintage photos, please contact us.