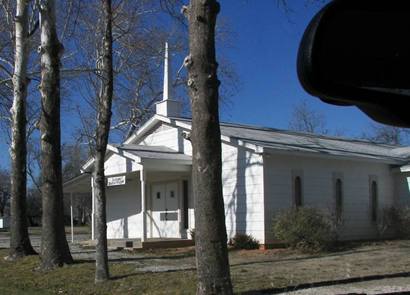 History in a Pecan Shell
Ambrose was named after Ambrose Bible, a Tennessean who arrived in 1883. He bought land that was in old Fannin County, from which Grayson County would be cut in 1846. The Denison, Bonham and New Orleans Railroad attemped to run a spur from the MKT in Denison but failed.

In January 10, 1902, Ambrose was platted and by September a post office was opened. The following year Bible deeded land for a right-of-way to the DB and NO railway.

In 1907 a school was built - also on land donated by Ambrose Bible. Soon Ambrose had a Methodist, Church of Christ, and Baptist church. A new school was built in 1917 and the town reached its high-water mark two years later. Since most people in the area were farmers, Ambrose never grew past 60 people. The DB&NO railroad went bankrupt in 1927 and the Ambrose post office moved to Bells in 1930. From then on, Ambrose's mail was routed through Bells. In 1980 the population was estimated at just forty-one. The former school is now in use as a community center.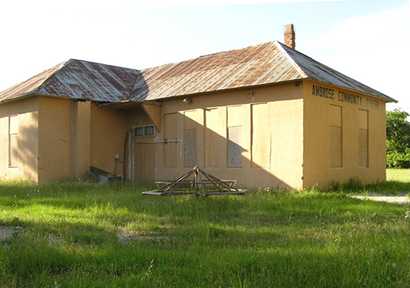 "It looks as though the former schoolhouse was used as a community center for awhile, but it does not look being maintained at this point."
- Stephen Taylor. Photo courtesy Elizabeth Taylor, May 2006
Another view of the Ambrose Community Center
Photo courtesy Barclay Gibson, February 2007
Photographer's Note:
Ambrose is kind of a strange town. It is located almost due north of Bells and has some kind of huge mining operation on at least two sides, north and west. The road literally dead ends into the entrance to the mine. The Gold Mine sign is probably somebody's joke. You can see the crane behind the Community Center. There seems to be only one way out of Ambrose and that is the way you came. - Barclay Gibson, February 13, 2007

Subject: Sand mines in Ambrose
The Ambrose gold mine sign is referring to a sand mine. This area along the red river is extremely rich in sand deposits. And there are several sand mines in this area. - Daniel Hall, July 12, 2023
Texas Escapes, in its purpose to preserve historic, endangered and vanishing Texas, asks that anyone wishing to share their local history, stories, landmarks and vintage/historic photos, please contact us.