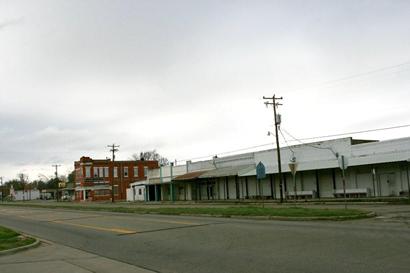 The town today refers to itself as Blossom Prairie, the original name of the community.

History in a Pecan Shell

Davy Crockett is said to have entered Texas near present Blossom. William Patton, Crockett's nephew crossed the Red River into Blossom Prairie in November of 1836 and a three year-old who later became Texas Ranger Ben Dragoo came to Blossom Prairie with his family in 1838.

By 1873, The roadbed for the Texas & Pacific Railroad was graded, but no track materialized. For three years there was a gap between Texarkana and Brookston. Freight was transported by wagon, to bridge the gap - passing through Blossom. Later, a passenger and freight depot was built on Front Street.

Blossom Prairie Academy was established in 1884 at this time the town's population was around 1,000. The town of Blossom Prairie was incorporated on January 8, 1886 and the name was shortened to the present Blossom two years later. Lamar College was founded in 1889.

Vice President John Nance Garner, who is usually associated with Uvalde, Texas once attended school in Blossom. His lifelong friendship with Sam Rayburn was based on their common NE Texas upbringing.

Blossom was once famous for its mineral water and wells were said to have numbered one hundred. The only one remaining today is in Blossom's City Park.

Professor J. Valenza's excellent Taking the Waters in Texas (UT Press, 2000) includes Blossom on her map of Springs and lists Bell's Mineral Wells, Blossom Wells and Beauchamp Wells as three different names in the Blossom vicinity.

Hotels opened to house the patrons "taking the waters." A portion of the former Burke Hotel is now a residence.

Cotton growers could have their cotton ginned and baled at one of the two Blossom gins. There were also two brick manufacturers. A hardware store is one of two remaining buildings in town made of Blossom Brick. By 1903, Blossom had one bank, two in 1910, and a third in 1919.

Blossom still has mineral water in the City Park although the hotels, bathhouse and brickyards are now gone.

In later years Cuthand Creek was dammed to create City Lake. (The City Administrator of Blossom in July of 2001 states that there is no "City Lake.")

Blossom's population dipped down to about 650 people at one point during the Great Depression. Today many Blossomites commute to Paris and the population is now a respectable 1,440.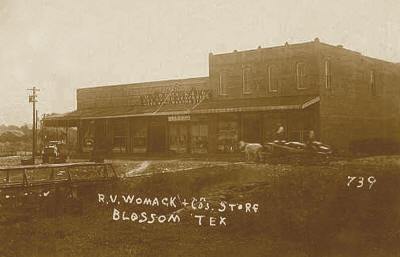 "R.V. Womack & Co. Store, Blossom, Texas." Early 1900s.
Photo courtesy texasoldphotos.com
More Texas Stores
Blossom Attractions
The Blossom Museum and Civic Center is located at 215 Pine Street in Blossom

Directions: South of Highway 82 on Faucett Street. Go one block and turn left on Pine Street. Museum is on the left. Hours: Fridays from 10:00 a.m. to 5:00 p.m.

Chamber of Commerce: None

City Offices: 903-982-5900 is the number we received from the telephone company for the city offices in Blossom.

Book Your Hotel Here & Save
Paris Hotels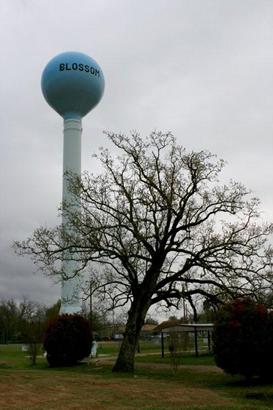 Blossom, Texas Forum
Subject: Blossom Museum
If you will go to Lamar Co TX Genweb, then scroll down to Blossom Museum, you will find a short history of Blossom, TX. I live there, and work at the Museum.

Blossom has lots of history, and we work to preserve the history in our genealogy section, and museum which has small items that were either used by Blossom residents, or happen to be items like those that Blossom people probably used. We have information about Blossom from the time it was incorporated, up to the present time. Our genealogy section has family files, which are furnished by family members interested in preserving their family history and sharing it with others. At the present we have six ladies that do volunteer work there, and we're all very proud of what has been accomplished in just a few short years.

The museum is also a library, utilized by people that live in and around Blossom. - Peggy Johnston, March 18, 2005

Book Your Hotel Here & Save
Paris Hotels