TEXARKANA, USA
On the Arkansas / Texas State Line
Home of Texarkana Community College and Texas A&M U, Texarkana.

Bowie County, East Texas / Miller County, Arkansas
I-30 and Hwys 59, 67, 71, and 82
116 miles NE of Tyler
178 miles E of Dallas
795 miles E of El Paso
West of Little Rock, Arkansas
Population: 31,656 (Texas side) 120,000 combined (1992)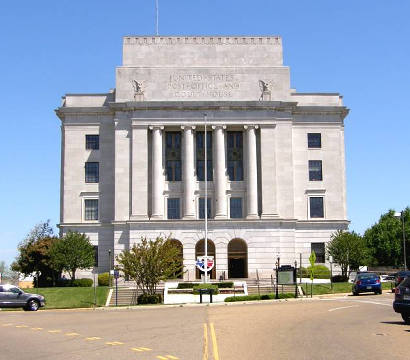 History in a Pecan Shell

Texarkana is comprised of two separate municipalities, with separate mayors and two sets of city officials. Fire departments, restaurant inspection, and sewage departments cooperate.

The name is a composite of Texas, Louisiana and Arkansas, although the Louisiana line is some 30 miles south.

The three most popular legends concerning the origin of the name are :
1. After a steamboat on the Red River that had been using the name circa 1860.
2. A product called Texarkana Bitters that was manufactured in Northern Louisiana.
3. The name was coined by a railroad surveyor who was so proud of his brainchild that he erected a sign.

Pre-Columbian settlement of the area reveals a heavy population. Within a thirty-mile radius of of Texarkana there are said to be seventy Caddo Indian mounds.

Modern times began with the town being established in late 1873 - the same day the first business opened. Real development began when the Texas and Pacific Railroad (running East to West) met the Cairo and Fulton Railroad (running North to South). The T & P took the responsibility of platting much of downtown.

The state legislature granted the city a charter in 1876.

State Line Avenue was laid out along the line between the two states. At first the post office was on the Arkansas side, but when Texas residents wanted one of their own, it was built and for awhile there were two separate facilities. The name was officially changed to Texarkana, Arkansas-Texas and eventually postmarks bore the imprint of Texarkana, U.S.A. The Federal Building consisting of a courthouse and post office has the distinction of being the only Federal building situated in two states. It has, for years been the subject of postcards and even today a photographer's island is provided for tourists.

The Texas side of Texarkana had a population of 11,480 by 1925. The Texas side of the city has historically held the larger population. The railroads were historically the major employers of the area.

Texarkana's most famous son was Ragtime composer Scott Joplin.

Where to Stay > Texarkana Hotels
Texarkana Lankmarks & Attractions
Ace of Clubs House Museum
1885 Italianate-Victorian house. Period furnishings.
420 Pine Street. Admission. 903-793-4831
Texarkana Historical Society and Museum
219, State Line Avenue
First (1879) brick building in Texarkana
Regional Arts Center
In the former US District Courthouse, circa 1909.
Fourth St. & Texas Blvd. Downtown.
903-792-8681
More Texas Museums
Scott Joplin Mural
Downtown. Third & Main Sts.
Texarkana's most famous son was Ragtime composer Scott Joplin.
More Texarkana Attractions
The Discovery Place - Displays geared for children. 215 Pine Street. Admission. 903-793-4831.

Oaklawn Opry - Country/Western music. 903-838-3333
Texarkana Fun Park - 3 miles north of I-30 on North State Line Rd.

Wright Patman Lake
Where to Stay > Texarkana Hotels
Texarkana Tourists Information
Texas Travel Information Center
On I-30 west of US 59.
Operated by Texas Department of Transportation

Texarkana Chamber of Commerce
819 State Line Ave.
P.O. Box 1468, Texarkana, TX 75504
Phone (903) 792-7191
http://www.texarkana.org/
Amazon.com - Scott Joplin Music CDs
If this box does not display CDs, click "Refresh" on your browser