An old cotton gin in Dime Box
TE photo, 12-2000
History in a Pecan Shell

There's an Old and a New Dime Box. The name comes from the practice of leaving a dime in a box at Brown's Mill to get a letter delivered to Giddings. This was before a Federal Post Office opened in 1877.

Old Dime Box is the second oldest (Evergreen is the oldest) town in Lee County.

The PO opened under the name Brown's Mill or a variation thereof, and in short order a lot of mail was misdirected to Brownsville. The postal people were livid. They had a reputation for refusing names that could be confusing with existing post offices, but this one got right by them. Ordered to change the name, the townsfolk submitted Dime Box and it was accepted.

In 1913, the Southern Pacific Railroad came within 3 miles of the town and almost everyone moved for the convenience this afforded. Enough remained to retain the name and they decided to become Old and New. This is a rare ending to a familiar story - but there you have it.

"New Dime Box" opened the 1944 March of Dimes Campaign and the town was featured in Life magazine. The Postmaster General even showed up to be photographed on the front porch of the store with an oversized mailbox which was sent to the White House. Today an oversized vintage dime stands in a transparent case in downtown Dime Box.
The Old Balcar Saloon and Buildings
TE photo, 12-2000
Café and Barber Shop in New Dime Box
TE photo, 12-2000
The railroad bridge in 1986, before it was dismantled and carted off to the park in Dime Box. Photographer Jeanie Gold of Dime Box.
Photo courtesy Allan Moses
The same bridge (shown above) now sits at the park in Dime Box.
TE photo, 12-2000
Dime Box water tower
Photo courtesy George Shaffer, March 2006
Remembering Dime Box
Grandfather by A. S. Friedell -
My grandparents raised pigs, chickens, guineas with their loud ka-track, ka-track, and the necessary milk cows and their calves. My grandmother would send me into the chicken house or even under the farm house to gather eggs..... more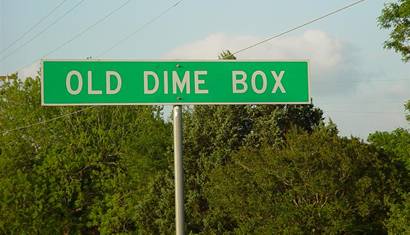 Dime Box Texas Forum
Subject: Dime Box & Hranice Cemetery
It's a tradition of mine to always check and see what is said about my hometown of Dime Box. The photos, stories and comments made me tear up just a bit, as I'm a college student and don't make it home as much as I'd like. I love the photo of the old Balcar building (my kin on my paternal grandmother's side of the family).

I noticed someone mentioned Hranice Cemetery. I thought I'd add a bit about it, as I grew up just down the road. From highway 21 near the Lee county line, just before entering Burleson County, is county road 426. Down this road, on the right, one will find Hranice Cemetery (also, next door is also St. Joseph's Cemetery). The house across the road is the house my grandma was born in. Most of my family is buried at Hranice, from my grandpa to my great-great (possibly even great-great-great) grandparents. I spent more time than most kids there, as my grandma enjoyed spending a Saturday every couple of months cleaning up the battered silk flowers, poisoning fire ants and placing new flowers on our family grave sites. I always loved walking to the older headstones, many of which are written in Czech, to try and find the oldest I could.

Next to the cemetery is the remains of the old Brethren Church. All that remains is a bit of foundation and an old water pump, which one can still pump the handle but will receive no water for their efforts (trust me on this one). My grandma told me the church was destroyed once by a tornado and once by a fire from a lightening strike. She actually helped my great grandpa pull pews from the church as it began to burn. I'm a huge history person and extremely close to my grandmother so I would love to send along some old photos and stories of the area. - Ashley Dobos, September 26, 2013


Subject: Dime Box, Texas
Just a few tidbits on the Dime Box photos: In the 1950's and 1960's the saloon was actual the Wolff place. It was a place where the folks that had grown-up around Dime Box came and played dominos twice a week. There is the Brethan Church which is one of the oldest in Lee County and where I was married.

On the east side off the main highway going to Caldwell, there is a paved country road just before the Yeague Creek. It circles back to Dime Box and on your left there is the Hranice Cemetery in which has the graves of earlier settlers to this region, Including my great-great grandparents Joseph F. Kortis and Pauline Urban.

If you keep on this road and go over the railroad tracks, a right turn takes you into Dime Box and you will see the old railroad bridge. Back in the 1980's it was the only way into town. I inched across that bridge many a time.

If you ever have time to spare just take one of the many back roads around Dime Box and there is no telling which old cemetery or old homestead you might stumble on. Dime Box has a rich history of Czechs who came over from the old Country who were farmers (sharecroppers), and moonshiners with strong family ties and traditions. - Paula Foster, Beaumont, Texas, April 20, 2006


Subject: Dime Box - Old Railroad Bridge
Dear Editor, Through a cousin of mine, I just stumbled upon your web site and specifically the "Dime Box" page and found it interesting, especially since I was born and raised right next to the original location of the big black railroad bridge that you have pictured. Our family's estate, the Moses place, was a Stephen F. Austin land grant homestead (260 acres) that was the one split in half by the SP railroad. My Grandfather, Asa P. Moses insisted that SP build the bridge to accommodate the movement of cattle, horses, tractors, etc. from one section of property to the other, as needed.

I happen to have a vintage (1986) photograph of that old bridge that my wife was blessed to win during the Dedication of the bridge when it was dismantled and moved to downtown Dime Box. The photograph was taken prior to its being dismantled and I thought you might like to use it on your site. God Bless, Allan Moses, February 09, 2006


I was looking for pictures of Dime Box Texas and found your website. I enjoyed your story and agree on the chickens. In 1981 I worked on the remodeling of the cafe in your picture. I was employed by Dime Box Lumber as a carpenter. Probably the first "YANKEE" they ever hired. Maybe the last! The pay was 1/2 of what Houston jobs paid. I always thought that was why it was called Dime Box. Your story clarified that.

I will always cherish the time I spent there and in nearby Giddings. Someday I hope to visit the area and enjoy the stillness it has to offer. My heart goes out to all the wonderful people whom I worked with at the former Lee Memorial Hospital in Giddings. Sincerely Yours, Richard Benton, March 19, 2005


I'm doing research on Dime Box, particularly "Old" Dime Box, for a book I'm writing. I lived there when I was young and remember bits and pieces of it. I enjoyed the pictures you had on the webpage for it.

I spent only a year or so there, but fell in love with the place. So far from "reality" as far as I was concerned, moving in from the "big city" of Houston (and I had lived in Dallas). It wasn't even on the same planet. I wrote my first science fiction story here, in fifth grade (and was told I blasphemed against God, which of course, only incited me to write more). Fifth grade consisted of 3 students including me, and a teacher who said things like "cleanliness was next to Godliness" and other [things] that drove us all crazy. We had to say "Amen" after each one. I got pretty wild out there and I guess that's why I loved it so. We raised horses and chickens (I hate chickens to this day) and a couple of milk cows, and a vegetable garden. We picked fruit for our landlady and traded for other foodstuffs. The people there were about as "wild west" as I'd ever seen (alive), carrying guns right on their body all over the place (though never in school and rarely in church). I learned to shoot tin cans (hey they stayed still, mostly) but couldn't bring myself to kill anything moving except bugs, snakes and the armadillos that rooted in the gardens and ate it up. We had no electricity in the house, no heat other than a pot belly stove, no running water (an outhouse and a water pump well), and no insulation in the walls. But I had a lot of fun and found the stars and fell in love with them.

The bridge pictured on that page (if it's the same one I am thinking of, and I could be wrong, since it's been a long time), I remember well. My Dad would stop just as he passed over the first of it and would stop, make us get out of the car, and walk the rest of the way across, to look for broken planks. I thought it was great fun. Being the oldest, I knew it was all a set up, but my younger brother and sisters didn't, so I didn't let on. I would act it up, pretend I found a weak board and wave my arms like I might fall. The bridge is still in my dreams.

I hope to drive down there soon and reminisce and take pictures. I doubt the house we lived in is still standing, but I want to get the flavor of the area before I start writing. The book will be fiction, a collection of short stories, based on nothing in particular but my wild imagination and some of the history and whatever gossip I can pick up here and there and from my crazy family. :)

Thanks for the hard work you have both put into the site. Very well done.- Alley Hauldren, Grand Prairie, TX, January 2, 2005


Texas Escapes, in its purpose to preserve historic, endangered and vanishing Texas, asks that anyone wishing to share their local history and vintage/historic photos, please contact us.

Related Topics:
Texas Towns | Texas Ghost Towns | Texas | Hotels
Custom Search