View of Hochheim from the road
Vintage photo courtesy TXDoT
History in a Pecan Shell

Immigrating to Texas was often a tragedy. Such was the case with Valentine Hoch who bought a homesite in DeWitt County even before leaving his home in Alsace-Lorraine. The man's name is German for "high" so it can be translated as "Hoch's Home" or "High Home" which corresponds to the geographic location of Mr. Hoch's residence.

One of Hoch's children died a few days before they left for America and upon arrival in Indianola, Mrs. Hoch died - leaving Valentine a widower with three surviving children. Arriving at his property in 1856, Valentine spent the next two and a half years building his two-story house from stone gathered from the Guadalupe River. Hoch remarried a woman with three children of her own and soon other families were arriving. The community became known as Hocheim to the German speaking residents and as "Dutchtown" by the Anglo settlers.

The community prospered since it was the Indianola-Austin stageline and a post office was granted in 1870. Hochheim had most essential business in the 1880s including at least two stores, a blacksmith, a Masonic lodge and a druggist. Daily stages to Gonzales and Cuero (the nearest railroad connection) made life a little easier for the 200 citizens - half of which were German-speaking. The population peaked with 261 residents in 1904. It declined to around 100 in the 20s and remained there for the next 40 years. After a brief climb back to 175, it dipped down to 70 where it remained for the 2000 Census.

The town remains on the state map and retains a post office on the highway. Valentine Hoch's stone house still stands just south of town - a mile from the river.
STAGECOACH INN
Then and Now
Vintage photo courtesy TXDoT
Hochheim General Store
Then and Now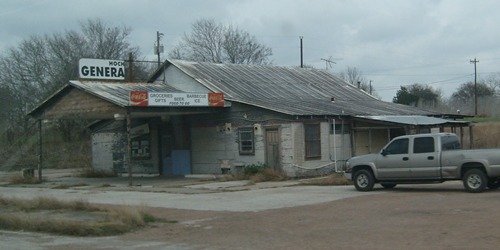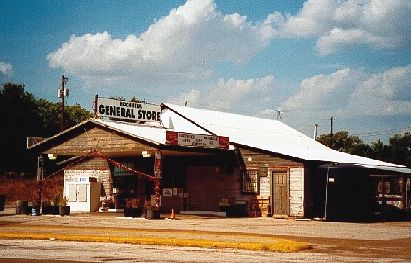 Hochheim, Texas Forum
Subject: Valentin Hoch

Valentin Hoch was a German settler who travel from Germany in the fall of 1845 looking for a better life for his family in America. As the Hoch family finished their preparation for their voyage to their new home in Texas and said their goodbyes to friends and neighbors, tragedy, the first of many, struck the family. They had a baby who sickened and died prior to boarding the ship in Bremen and another child took ill and die aboard the ship on the journey to America. Valentin's wife, Margarethe made it to the shores of their new homeland and died in Indianola. Valentin was among a group of new settlers who were to receive a land grant and escorted to his new land upon arrival in America, but circumstances led to the new immigrants being left stranded without transportation, little food, and no shelter on an island where disease and death were spreading rapidly. Many immigrants, such as Valentin set out on their own. On February 17, 1848 a deed was filed in Gonzales County, Texas recording Valentin Hoch purchasing 45 ½ acres of land in what is now DeWitt County, Texas. The community at the time was known as Dutchtown and later became known as Hochheim meaning "high home". It is said that when "the lonely German traveler came to the rolling rocky hills and the wooded hollows of this uninhabited spot, he pulled his old gray horse to a halt and said to his son, August, 'Here we shall build our home'." In 1854, Valentin was single and raising his children on his own. It is said that a "neighbor came to him one day and said 'Volentine you need a housekeeper. I hear that there is a lady stranded at Indianola who would probably come to work for you. She has two children and has recently lost her husband. You might see if you can get her to come'". "So Volentine went to see the lady, a Mrs. Fleming, who had come to the new country with the same high hopes and plans that Volentine had held, only to become hopelessly bewildered when death took the husband and father of the family." Perhaps, Valentin, hearing of Johanna's plight, recalled his own voyage to America, the loss of his two children and his wife, and the overwhelming feeling of arriving in a new country and having his own 'high hopes and plans' shattered. Whatever his reasons were "he saddled up and went to Indianola to see the widow." "What arrangements they made concerning their respective families were not known", but Valentin returned in a few days with the young German widow and her two children. The "mother's name, however, had been recently changed to Mrs. Volentine Hoch. History relates that with no more courtship than that, they were married." To this union four more children would be born to Valentin. It is unknown exactly when Valentin began the preparations to build a home for his family, but it is assumed that the project was a long and intense one. Valentin "spent several years quarrying his stone and bringing his material to the spot where his house was to stand". "There were no modern, tools, no giant crane to lift the heavy stones, no one to quarry the stone from the Guadalupe river banks, except Volentine himself." "He hauled the rock on a slide. The old gray horse pulled the slide." It is assumed that the home that Valentin labored over for his family was completed in 1857. "The sturdy two-story rock house that Hoch built was near the regular stage line between Indianola and Austin. Although Hoch did not build his house for a stage stop, it soon became known that one could partake of a good meal and if need be, spend a night." "People hauling freight from Indianola to Gonzales and Austin would stop there and eat, take their teams out and water and feed them." "August Hoch, Valentine's son, was learning to repair harness and make saddles, a service always needed by the horse-drawn freighter that passed by the Hoch place. The old home still stands today and is recognized as a Texas Historical Landmark. The story of the Hoch Home is best summed up in the article written in the Yoakum newspaper in 1936, "Today, an old stone house stands on the old Hochheim-Cuero road, about a mile and a half out of Hochheim, and about a mile from the Guadalupe river, with its ancient roof beaten by the rains and buffeted by the winds of eighty years, and its still sturdy walls holding memories of the heart-aches and disappointments, the joys and achievements, the births, marriages, and deaths, of three generation of Hochs who made it their home." - Thanks, Debbie Hoch, March 03, 2008

See Cuero and DeWitt County