A distant view from Roznov
TE Photo, 2004
History in a Pecan Shell

The town had a post office in 1892 which was discontinued in 1906. 50 people lived there in 1933. At one time there was a saloon, a blacksmith and a store. It was named by town founder John Halamicek for his birthplace in Europe.
If it wasn't for the sign, you'd never know there was once a town here

TE Photo, October 2004
The Halamicek Homestead
Photo courtesy Greg Stone & Louisa Halamicek Stone
Roznov Texas Forum
Subject: Roznov, Texas
I saw your page on Roznov, Texas and decided to contribute what I know about that place. My wife's great grandfather was John Halamicek. He named the village in Fayette County, Texas after his birthplace, Roznov pod Radhostem in the Moravian part of what is now the Czech Republic.

He bought a store at Roznov, TX shortly after he married Miss Anna Baron in 1885. He added on to his property there and at one time there was a school, a post office, a molasses mill, and homes for his tenants. Mr. and Mrs. Halamicek raised their 12 children at Roznov, and continued to live there until they died. They are buried in the Halamicek Cemetery which is near Roznov at the junction of FM 1291 and C.M. Allen Road, about 5 miles east of Fayetteville.

Attached (above) are some pictures of Roznov and the Halamicek homestead that used to stand at Roznov. - Greg Stone & Louisa Halamicek Stone, August 29, 2006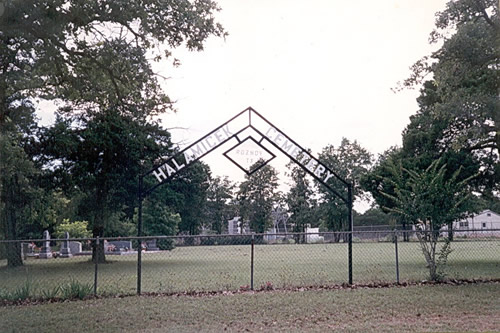 The Halamicek Cemetery
Photo courtesy Greg Stone & Louisa Halamicek Stone