The 1919 St. Ludmilla's Catholic Cemetery
Photo courtesy Barclay Gibson, February 2009
History in a Pecan Shell
Earliest settlement dates to 1832. Other people arrived after Texas Independence but like many residents in this area, they were happy to sell their land to arriving German settlers and move westward.

In the 1870s a true community formed on land belonging to the Wied bothers. A post officed in the general store in the late 1880s and remained open until 1906.

In the 1880s and 90s, Czech immigrants arrived and equaled out the population between the two groups, although the town was still tiny by today's standards, reporting less than 50 people.

The first school was built in the mid 1890s and St. Ludmilla's Catholic Church was constructed around 1919. The population reached its high-water mark in the 1940 – at around 100 residents. The 1950 census showed the population reduced by half. It remained around 50 for years even after the community store and the cotton gin closed.

From the late 60s to the 2000 census, Wied has used the number 65 as their population count.

A Visit to Wied, Texas

Smothers Creek Through Truss Bridge

Wied School Historical Marker
---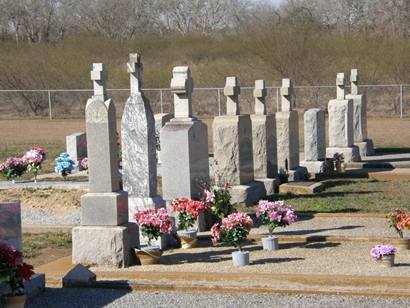 ---
Wied School
Opened in 1895, Wied School served the primarily German and Czech population of the Wied community over 70 years. Anglo-American settlement in this area began in the 1830s, and by the early 1870s, German immigrants, including the Wied brothers for whom the community was named, began moving here. A number of Czech immigrants also came to the community in the following years. Local students attended a private school until August Wied, son of Sophie and George Wied, deeded land for a community school.

In the early years of Wied School, teachers held classes for grades one through seven in a three-room schoolhouse, which residents replaced with another three-room structure in 1919. The school later expanded the curriculum through grade ten, after which students attended high school in Hallettsville or Shiner. Courses here were varied and included the Czech language, reflecting the heritage of many residents. Teachers also stressed agriculture, echoing its importance in the rural Wied community. Cotton farming drove the economy, and most students attended school only after the fall harvest.

The population of the Wied community declined in the 1950s, and in 1966, Lavaca County school trustees voted to consolidate the school with the Vysehrad district. As a result, Wied School closed and trustees sold the building. Although the school no longer exists, its history serves as an important reminder of Wied community and a once vital institution that was an integral part of rural education efforts in this part of the state.
---
Smothers Creek Through Truss Bridge
Wied, Texas
The bridge is about 1.5 miles to the northest on CR 183 over the Smothers Creek. - Barclay Gibson
Texas Escapes, in its purpose to preserve historic, endangered and vanishing Texas, asks that anyone wishing to share their local history, stories, landmarks and recent or vintage photos, please contact us.