EVADALE, TEXAS

Jasper County, East Texas

30°21'13"N 94°3'55"W (30.353492, -94.065332)

Hwy 96 and FMs 105, 1131, and 2246
Near Hardin County line
9 Miles SW of Buna
6 Miles E Silsbee
43 Miles S of Jasper the county seat
26 Miles NE of Beaumont
ZIP code 77615
Area code 409
Population: 1,483 (2010) 1,430 (2000)

Evadale, Texas Area Hotels › Jasper Hotels
History in a Pecan Shell
Originally called Richardson (after Neches River ferry operator Ben Richardson), the town received a post office as early as 1839 (Ben Richardson, postmaster). Richardson died in 1849, and the land sold to the Ford family. Now known as Ford's Bluff, it was hoped that the location on the river would become a milling facility. The family's effort failed when Philip Ford died of yellow fever while trying to buy equipment in New Orleans.

He did manage to return home before dying, but his death dashed plans for a mill. But the bluff did become a log collection point for mills downriver in Beaumont.

In the 1890s, lumberman John Henry Kirby renamed the site after teacher Eva Dale, of Jasper's Southeast Texas Male and Female College. Kirby built a mill here in 1904 and the town was granted a post office that same year.

In 1914 the mill was producing 70,000 board feet of lumber per day and six years later the population had grown to 300.

The Great Depression closed the mill and by the end of the 1930 the population was down to 100 residents.

In 1948, the Champion Paper and Fiber Company built a pulp mill here which was later acquired by Temple-Eastex Industries. The boost to the local economy increased the population to 700 in the early 1960s. In 1984 the town had a population of just 715, but has doubled to 1,430 by 2000.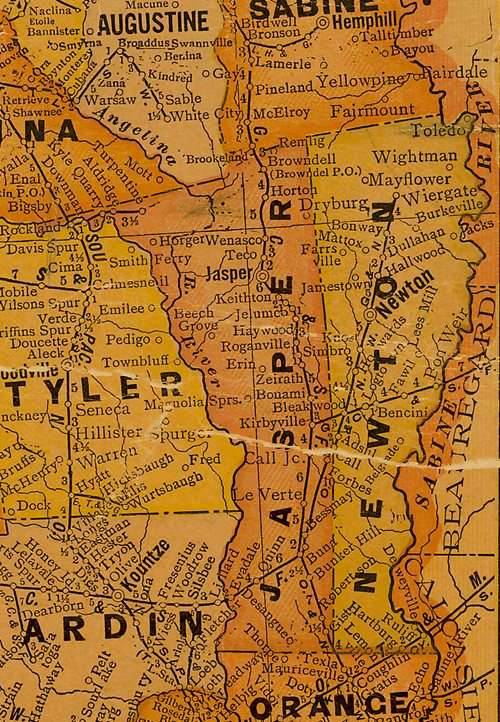 1920s map showing Evadale in SW Jasper County
just E of Hardin County line
From Texas state map #10749
Courtesy Texas General Land Office
Texas Escapes, in its purpose to preserve historic, endangered and vanishing Texas, asks that anyone wishing to share their local history, stories, landmarks and recent or vintage photos, please contact us.