Preservation
Ft. Worth's Burk Burnett Building
THE WORTHINGTON NATIONAL BANK
500 Main
Fort Worth, Texas
Winner of the Historic Fort Worth, Inc. Preservation Award
Restoration of the ground-floor bank completed in December of 2005.
CHS Architects
Primary Architect - Mojy Haddad

Photos Courtesy Brian J. Hutson & Hutson Creative Group, Inc
The Worthington National Bank Restoration
by Maureen Hollern
Greg Morse, President of Worthington National has put a special emphasis on the Historical renovation and interior design of his award winning downtown Fort Worth space, the Burk Burnett Building. He has focused on restoring the building as closely as possible to its original appearance. He has worked with historians, reviewing the archives. He has also worked hand in hand with the Bass's interior designer, artists and specialty contractors to focus on the details of design. Special Italian marble was custom cut to match original flooring. He hired a custom ironworks company to create vault doors, office doors and iron teller window bars like old-fashioned bank teller windows. All the furniture and décor has an antique western appeal. Steer heads that have been mounted at each of the posts look out over all of the offices and main teller cages. There are many original pieces of Texas art that accentuate the Cowtown flare.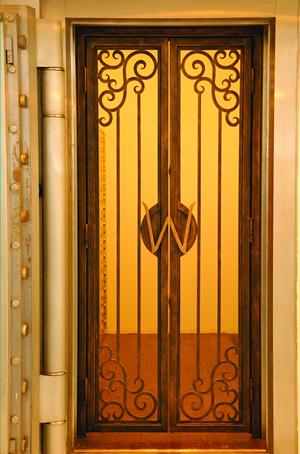 Xiang Xian is the primary artist and Morse commissioned him to create original paintings for the bank. Xiang is an artist from China who started out painting horses. He flew into DFW and went to The Four Sixes Ranch and asked if he could watch the cowboys. He knew nothing about the ranch or owner - Burk Burnett. Coincidentally, all of these drawings are from his experience at Burk Burnett's Four Sixes Ranch. Burk Burnett was the original owner of the bank building and the current name of the building today.
The Worthington National Bank Lobby
(Rescued Emily Guthrie Smith mural appears on left wall.)
The largest piece of artwork in the bank's collection is a wall mural painted by Fort Worth's own Emily Guthrie Smith who taught at Texas Christian University. The painting once hung in the old the dining area of the old Fort Worth Western Hills Hotel. When the restaurant burned down, someone pulled most of the mural off of the wall. An original postcard shows that a small portion of the picture was damaged and unable to be salvaged. This beautiful piece of history was owned by an art dealer in Dallas when Mr. Morse purchased it back. He felt that Fort Worth is where it needed to be.