1876 was a remarkable year for America. Alexander Graham Bell made the first phone call in Boston, Massachusetts; Custer had his last stand at Little Bighorn, Montana Territory; and Crawford Goldsby was born at Fort Concho, Texas. Now this last event may not sound like such a big deal, until you know that, by the age of 20, Crawford Goldsby, later known as Cherokee Bill, was one of the most notorious killers prowling the western frontier. He was known to kill anyone he didn't like, kith and kin being no exception.

Crawford's mother was Cherokee, African, and white, and his father was a slave who had been freed for his contributions to the Civil War. At the age of seven, Crawford saw his father slaughtered by the Ku Klux Klan, so it's likely that his bad temper and lust for revenge against his fellow man can be traced back to this tragedy. His brokenhearted mother left Texas and headed for Fort Gibson, Oklahoma, with little Crawford, his sister and two brothers. When the time was right, she sent him to the Indian School in Kansas for three years, followed by an industrial school for Indians in Carlisle, Pennsylvania.

At the age of 12, Crawford returned to Fort Gibson and discovered his mother had married a man he couldn't get along with. Crawford rebelled by hanging out with a bad crowd and drinking lots of bad liquor. At the age of 15, Crawford moved in with his sister and her husband, Mose Brown, in Nowata, Oklahoma, but couldn't get along with Brown either. He returned to Fort Gibson, bunking with a buddy and working as a handyman. So far, so good. Nobody had yet worked young Crawford into the lather of rage that later would cost so many their lives. He didn't begin to get that reputation until he was 18. It happened at a dance.


Soon after arriving at the dance with one of his brothers, a man named Jake Lewis began to pick on Crawford's sibling, whereupon Crawford grabbed a six-shooter and blasted away at the bully. Since there was a guy lying there on the floor, apparently dead as a doornail, and there were no names on his dance card anyway, Crawford did what he had to do. He fled.

Crawford met up with the outlaw Cook brothers, Jim and Bill, who, like him, were part Cherokee. A match made in heaven? More like the other, hot place. In 1894, the U.S. government bought a strip of Cherokee land, offering $265.70 to each person with a legal claim. Smelling easy money but wary of the lawmen who were after Crawford Goldsby for the Lewis shooting and Jim Cook on larceny charges, they couldn't very well just saunter into a government office and ask for their money.

Instead of taking a chance on getting caught, they persuaded a restaurant proprietress, Effie Crittenden, to go to Tahlequa and collect the money for them. However, an enterprising sheriff, Ellis Rattling Gourd, followed her back with a posse, in hopes of apprehending the wanted men. Not the best idea Sheriff Gourd ever had.

A gunfight ensued with Crawford and the Cook brothers on one side, and Gourd and his posse on the other, not what could be called an even match, except for the marksmanship of Crawford. One of the Sheriff's men, Sequoyah Houston, met his maker that day, and Jim Cook was wounded. What was left of the posse rode off in a hail of bullets.

When Effie Crittenden was later question by authorities and asked if Crawford had been involved in the gunfight, she loyally (or fearfully) replied, "No, it was not Crawford Goldsby. It was Cherokee Bill." Thus she dubbed him with the name he would carry from then on. He was now one of he most dangerous men in Indian territory. Crawford Goldsby and the Cook brothers were henceforth elevated by his reputation to the more intriguing title of The Cook Gang.
Cherokee Bill
Photo courtesy of legendsofamerica.com
The Gang robbed banks, held up stagecoaches, and stole from shopkeepers. Anyone who got in their way was quickly launched into eternity by one, two, or all three members of the Gang. At one point during this reign of terror, Cherokee Bill got into an argument over some hogs with his brother-in-law, Mose Brown. He went hog wild, shot and killed poor Mose without a second thought, and never looked back. Now the authorities were really mad and decided to catch Cherokee Bill at all costs. The Cook brothers thought better of their association with the seriously sought Cherokee Bill and the Gang split up. At this point, lawmen offered $1,300 reward for the capture of Cherokee Bill, dead or alive. Since he wasn't too good at making friends, Cherokee Bill's acquaintances responded to the reward and lined up with hot tips.

Cherokee Bill managed to evade the law until April 1895 when he was captured, convicted, and sentenced to death in Ft. Smith, Arkansas.



Apparently, Cherokee Bill could turn on the charm if the stakes were big enough. He befriended a jailhouse guard, Sherman Vann, and got him to smuggle in a six-shooter. Cherokee Bill jumped the night guards, shot guard Lawrence Keating in the stomach and again in the back as Keating staggered down the corridor. New guards arrived in such numbers as to thwart Cherokee Bill's plan to escape. All he could do was prevent them from entering his cell, presumably by waving his weapon around. With his reputation and what he had just done to their colleague, the guards were rightly scared.

A courageous prisoner, Henry Starr, did some fancy talking and the guards permitted him to enter Cherokee Bill's cell where he was able to negotiate a surrender. That was the beginning of the end for Crawford Goldsby.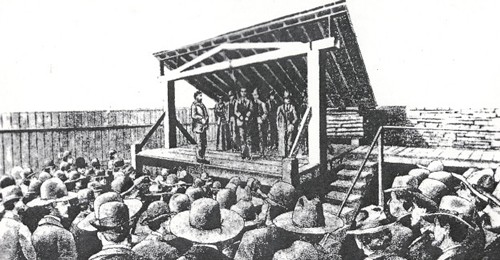 Cherokee Bill on the gallows
Photo courtesy of nps.gov
Convicted and sentenced to death yet again, this time for the killing of guard Keating, Crawford was ready to shake hands with the grim reaper on March 17, 1876. When brought up to the gallows, he blithely commented, "This is as good a day to die as any." Standing on the platform, noose about his neck, he was asked by the hangman if he had any last words. He replied, "No!! I came here to die, not make a speech."

In the end, the death toll of men killed due to Crawford's violent temper, rose by one: Crawford Goldsby himself.



© Maggie Van Ostrand
"A Balloon In Cactus" March 27, 2008 column
---