Books by
Michael Barr
Order Here:
When Millie Tinker died in 1933, she was about 120 years old, give or take a few years. The reason for the uncertainty is that Millie never had a birth certificate. The only written record of her birth was a bill of sale, and it was somewhat vague.

Amelia "Millie" Tinker was born a slave around 1813. She came to Gillespie County with a group of slaves owned by John Doss, formerly from Virginia.

Among his other properties, Doss owned a 1,500 acre cotton plantation and slave farm east of Fredericksburg. He was the first large-scale farmer in Gillespie County. His place included hundreds of acres of top-notch bottom land along both sides of Pedernales River from Blumenthal over to Cain City.

Millie Tinker, known as Aunt Millie, was a trusted household servant at the Doss Farm headquarters near Rocky Hill, and she supervised the other female slaves.

Not much is known about Millie's life before she came to Gillespie County or afterwards for that matter. Some sources say she was part Native American (Comanche or possibly Choctaw) from Oklahoma.

Whatever the ambiguities of her background, there is no doubt that most everyone loved and respected Millie Tinker. Even within the Doss household she wielded considerable influence. Records indicate that "she in all probability enjoyed some special privileges as she had good knowledge of basic educational skills and probably was responsible for the welfare of a number of people."

She was certainly a strong and dignified woman, and she made quite an impression on everyone she met. For example when John Doss died in 1863, his will spelled out exactly how his slaves were to be divided among his heirs - with one exception. "Milly, his mulatto woman, was to remain with the farm after his death and could choose who she will belong to."

It was a small concession but a most unusual allowance in the dark days of the old Confederacy.

Gillespie County, Texas was an isolated region during the Civil War years. Mail service was hit or miss. Not much outside information filtered this far inland.

As a result, the Emancipation Proclamation, the defeat of the Southern Confederacy and the passage of the 13th Amendment came and went without much impact on the day to day operations of the Doss Farm. There were whispers about Lincoln, liberty and equality, but freedom for the slaves did not come to the Hill Country until 1867 when federal troops arrived on the Pedernales to enforce the new laws.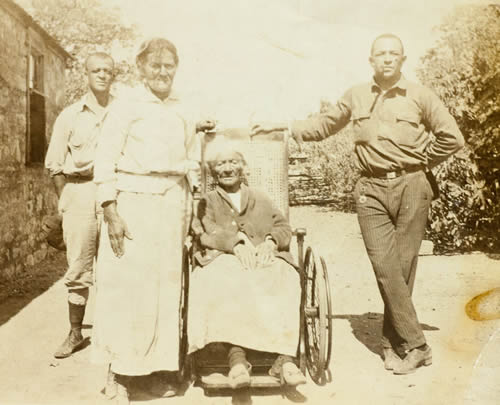 Millie Tinker in her last years with members of the Phillips family.
Courtesy Dr. Paul Phillips
After the war Millie and her husband James Tinker settled on a 100 acre farm near Blumenthal on the Austin Road. The Doss family gave them the land along with some cattle, horses, hogs and farm equipment.

James Tinker spent the rest of his life as a farmer and a rancher. He was one of the original trustees of the Christian Methodist Episcopal Church at 520 E. Main Street in Fredericksburg.

Records indicate that Millie spent time in San Antonio working as a domestic in the homes of army officers at Fort Sam Houston. An article in the March 10, 1933 edition of the Fredericksburg Standard says that while in San Antonio Millie "served as a nurse during the epidemic of cholera."

It was during WWI, a few years after James Tinker's death in 1913, when Millie returned to the Tinker farm. Her niece Mary Phillips cared for her in her last years.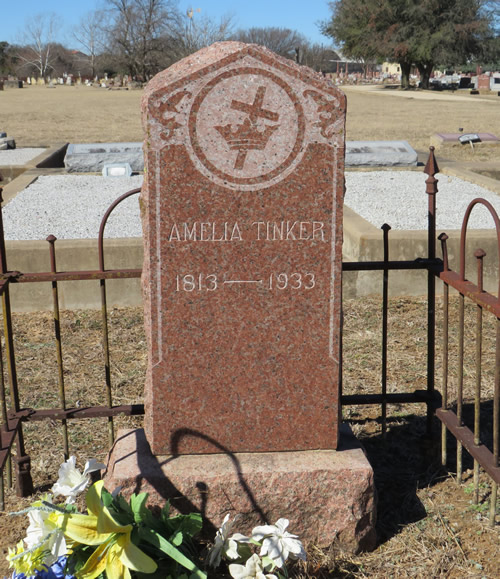 Millie Tinker died on March 8, 1933. An article announcing her death appeared in the March 12, 1933 edition of the San Antonio Express - an indication of the many friends and admirers she had in the Alamo City.

I was first introduced to Millie Tinker years ago when I saw her grave in a detached section of Der Stadt Friedhof in Fredericksburg. I lived across the creek and would sometimes stop by for a visit.

Although we don't know much about her and the memory of her is dim, Millie Tinker quietly led the way from slavery to freedom, making it possible for the children and grandchildren of Gillespie County slaves to have a better life.
Sources:
"Picturesque Lange's Mill Played Key Role In Area's Development," Fredericksburg Standard, April 28, 1971.
"Millie Tinker An Ex-Slave Died Wednesday," Fredericksburg Standard, March 10, 1933.
"Former Slave Woman Dies On Plantation," San Antonio Express, March 12, 1933.
The Phillips Family. A story by Paul Phillips, Jr.
---