Books by
Michael Barr
Order Here:
One of my favorite all-time movies in Cool Hand Luke, starring Paul Newman, and a part of the reason I like the movie so much is that I understand Luke's frustration with parking meters.

Just about every town in the country has flirted with parking meters at one time or another. (Even Luckenbach had one.) Fredericksburg's romance with parking meters began around 1950, but the relationship went south in a hurry.

As most of you know, the main purpose of a parking meter is to control parking, not to create revenue. Parking meters discourage lengthy parking, insure the turnover of parking places and make shopping more convenient for customers. Parking meters are supposed to be good for business.

Now, if you think parking in Fredericksburg is a 21st century problem, you should see 70-year-old pictures of Main Street on the opening weekend of deer season. Not only were cars angle parked along both sides, they were parked crossways in the middle of the street from the Nimitz Hotel to Marketplatz. Cars everywhere.


And so it was the businessmen, led by the Fredericksburg Chamber of Commerce, who campaigned for parking meters. A petition for that purpose first circulated in the spring of 1949. By October 1951 the meters were up and running.

The parking meter zone extended 7 blocks; from Washington Street to Edison Street. In addition to the meters along Main, the city installed meters for some distance along cross streets including Llano, Adams, Crockett and Orange Streets.

There were no meters in certain areas around the courthouse, but there were meters in front of the Post Office which no one was happy about.

The meters were operational from 8am to 6pm daily except Sundays and holidays. A penny bought 12 minutes and a nickel bought an hour (2 hour max). The meters in front of the Post Office were for a maximum of 15 minutes.

While income wasn't the main objective, Fredericksburg City Clerk Harry Land reported that revenue from parking meters exceeded $1,500 the first month and $20,000 for the first year. Half of the money went to the Magee-Hale Park-O-Meter Company of Oklahoma City, Oklahoma to pay the note on the parking meters. The other half went into the city treasury.

Parking meters seemed like a good idea in the beginning, but problems arose that no one anticipated. The meters around the Post Office caused a storm of protests. The removal order for those machines came in July 1952.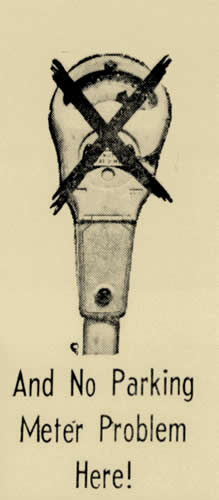 And no parking meter problem here!
When visitors complained about parking meters, and threatened to spend their money elsewhere, the city decided not to ticket out-of-towners (identifiable by their license plates) but instead gave each visiting violator a "Greeting Card" that read "Welcome to Fredericksburg. You have overstayed the parking meter but not your welcome to Fredericksburg. This time the oversight draws only this reminder, courtesy of Fredericksburg merchants and city officials. Please come back soon - and remember the parking meter."

Deer hunters too got a free ride. The Chamber of Commerce put a bag over every parking meter in town on the opening weekend of deer season.

Soon it seemed like locals were the only ones paying to park. Everyone else got a pass.

Of course the real problem with parking meters, and the cause of so much frustration, is that parking meters have no feelings. You can't explain to a parking meter that you changed clothes that morning because your toilet exploded, and you left your spare change in your other pants. Parking meters just stand there with a smirk, aloof and uncaring.



In Fredericksburg, parking meters became an inside joke. Businesses off Main Street, like Nebgen's Supermarket (corner of Austin and Milam) used the absence of parking meters as an advertising gimmick. "Best prices in town," their ad read, "and there's no parking meter problem either."

By the 1970s the general public was fed up with parking meters. Some locals, who had been feeding parking meters, and paying fines, for years, threatened to grab their pipe cutters and settle some old scores.

For a time Fredericksburg had a love/hate (mostly hate) relationship with parking meters. By the 1980s the parking meters were gone.
---