Books by
Michael Barr
Order Here:
Dr. Schubbert was one of the most colorful and controversial characters in the history of early Fredericksburg. Although he led the colony during its most vulnerable time, there is little about him in the history books. He's like the crazy old uncle nobody talks about.

His story is fascinating, even if most of it doesn't hold water.

In 1845 John Meusebach succeeded Prince Solms as Commissioner-General of the Adelsverein in Texas. Meusebach was in New Braunfels, up to his eyeballs in financial and logistical problems. He needed a dependable director for the new colony of Fredericksburg. After meeting Dr. Schubbert, Meusebach offered him the job.

Dr. Schubbert was an impressive man with a big personality. Even Meusebach fell under his spell - at least for a while. Dr. Schubbert accepted Meusebach's offer and in 1846 began his duties as administrator of the new German colony on Baron's Creek.
Dr. Schubbert's life before he came to Texas read like a Russian novel. Born in the German state of Hesse, his father was Dutch and his mother French. He was related to the King of Sweden.

He was quick to anger and a crack shot with a pistol. He seriously wounded a man in a duel over a woman, causing Schubbert to flee to the United States in 1826.

He lived 2 years in New York where he was the agent for several European businesses. He went back to Germany for a time, returning to the US in 1839.

In 1842 a duel in New York led to a murder warrant with his name on it, causing him to flee to Texas. Along the way, near Louisville, KY, the riverboat he was on ran aground and sank.

While waiting to retrieve his luggage he met a German doctor who ran a medical academy. Schubbert enrolled and earned a medical degree. He then continued his journey to Texas, arriving there in 1844.

Before coming to Fredericksburg, Dr. Schubbert and 3 companions built a log fort on the Leona River at the base of the Edwards Plateau (near Uvalde). There he supposedly lived an idyllic existence, hunting buffalo and making many lasting friends among the Comanche.

It's a great story, but little of it was true. Dr. Schubbert had a wild imagination.


Professor James C. Kearney of the University of Texas studied Dr. Shubbert's life and found no evidence of a duel in Germany or in New York. The kinship with the King of Sweden also appears bogus. Although Schubbert had some knowledge of medicine, there is no record he was ever in medical school. He may have spent time on the frontier but on the San Gabriel River north of Austin.

He even lied about his name. His real name was Friedrich Armand Strubberg.

To make matters worse, Meusebach came to believe that Dr. Schubbert was undermining his authority. The two men had a serious parting of the ways.

Meusebach's last act as Commissioner-General of the Adelsverein was to fire Dr. Schubbert. Getting on Meusebach's fighting side proved to be Schubbert's historical undoing.

So who was the real Dr. Schubbert? Without a doubt he was a liar, a narcissist and a scoundrel, but as Dr. Kearney points out, he did some good things. He led Fredericksburg through the first delicate year of its existence. Citizens built the original Vereins Kirche under his direction. He also had friends and supporters in Fredericksburg who were not happy to see him go.

So why do we hear so little about him?

First, as Dr. Kearney writes, Meusebach and Schubbert disliked each other, and because Meusebach was a great man, Schubbert must have been a rogue. More importantly, when Robert Penniger wrote the book Fredericksburg, Texas, the First Fifty Years, the men who contributed to that book strongly supported Meusebach and disliked Dr. Schubbert. They purposely left Schubbert out of the story.

But Dr. Schubbert, real name Friedrich Armand Strubberg, got even. He went back to Germany and became a very successful writer of American frontier novels. In his most popular novel, Friedrichsburg, he made himself the hero of the German colony on Baron's Creek. He purposely left Meusebach out of the story.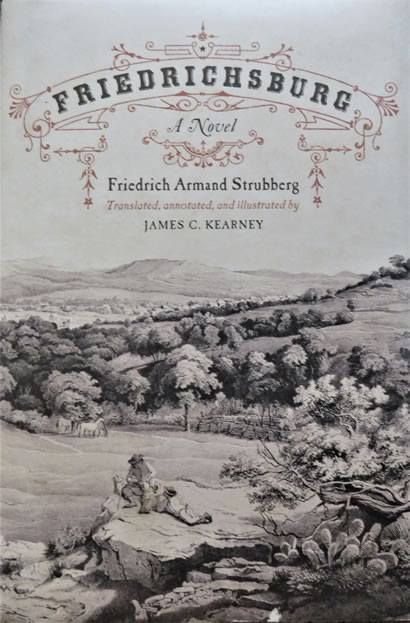 Friedrichsburg
A novel by Friedrich Armand Strubberg
---