Hollywood has seldom – if ever – portrayed buffalo hunters as civilized, erudite men. Screenwriters and producers of Westerns usually have their buffalo hunters play the role as coarse, scruffy men ready to drink or kill anything.

But as the story of one time buffalo hunter John Cloud Jacobs demonstrates, reality is not always that simple. "To see him saluting, bowing and smiling at the ladies you would not think he ever shot anything larger than a cotton tail rabbit," fellow pioneer George W. Saunders later wrote.

Jacobs probably didn't wear his Sunday school clothes when he went out after buffalo, but in later years, Saunders described him as "dignified and very modest." He also could write complete sentences and string them together into logical paragraphs.

Born and raised in Kentucky, Jacobs got to Texas as soon as he could. Arriving in the Lone Star state at 19, he soon drifted west. In 1874, voters elected him sheriff of sparsely populated Shackelford County. He was only 20 years old. But there was a lot of trouble and not much money in being sheriff. Jacobs turned to cowboying, but soon went on to pioneer a new industry for Texas: buffalo hunting.


"When we started to the range for the winter hunt we bought one ton of ammunition – 1,600 pounds of lead and 400 pounds of powder – besides shells, paper caps, etc.," he wrote in The Pioneer, a long-defunct magazine then published in San Antonio by Saunders.

Jacobs went on to describe how he and his colleagues made their living shooting buffalo by the thousands. Each of the shaggy beasts was a walking $1 bill, the value of one hide. But while the great buffalo herd constituted a vast natural resource, it was not a renewable resource. In fact, Anglo Texans understood that when the buffalo were gone, so would be the Indians.

"The buffalo hunters are often blamed for the slaughter of the buffalo," he wrote. "It is true that we averaged from four to six thousand hides a season … but it had to be…. Now there is a cow where there used to be a buffalo, and the country is dotted over with thrifty, happy homes."

After the buffalo virtually disappeared, in large measure thanks to him and his colleagues, Jacobs moved to South Texas. Soon he took on another novel job involving animals: Collecting tropical birds and other exotic species in Mexico for sale to zoos and museums.

In 1904, he settled in San Antonio and bought a ranch he named the Deer Park Polo Ranch. He raised and trained polo ponies, bred cattle and sheep, maintained a tropical bird aviary and kept a herd of deer on his place.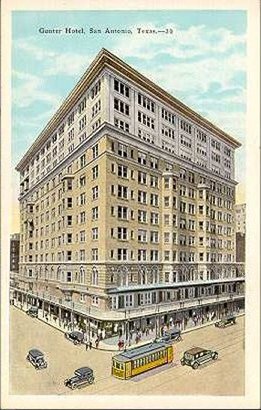 He liked to attend the annual meeting of the Old Trail Drivers at the Gunter Hotel, where cattlemen, cowboys and other old timers gathered in October to swap stories and "rattle their hocks" on the dance floor following a grand banquet. Saunders was the driving force behind the organization, which probably explains how Jacobs came to write his piece for the magazine the old trail driver put out.

In another article written when he was about 70, Jacobs marveled how fast the world had changed.

"It seems now as though it was all in some other world and under fairer skies," he wrote.

Jacobs died in San Antonio around 1930. The buffalo were long gone, and soon, so were the last of the buffalo hunters.

© Mike Cox
"Texas Tales" - November 29 , 2004 Column

Related Stories: Separating Buffalo Facts from Fiction
Related Topics: Texas Animals | People | More Columns | Texas |