Given half a chance, any self-respecting Texan will try to claim that his cowboy forebears invented trail driving.

From Zane Grey to Larry McMurtry, writers have turned the Texas trail drive story into the Lone Star state's version of the Odyssey -- a long, adventurous trip from Texas to the railhead in Kansas.

But all those longhorns that revitalized Texas' post-Civil War economy had to come from somewhere. And where the breed came from was the interior of Mexico. Via trail drive.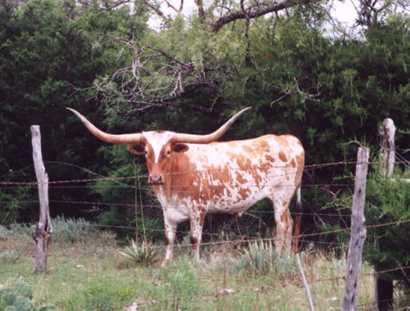 Unfortunately, not as much is known of these first trail drives into Texas as the later trail drives from Texas beginning in the 1870s. Fortunately, Father Mariano Antonio Vasconcelos, a Franciscan missionary who spent 14 years in the Spanish province of Texas, kept a diary.

The padre did not wax on and on with descriptive prose, but the journal he wrote offers some insight into Texas' first trail drives.

"A drove of cattle left [Zacatecas] for the missions and Fr. Jose Maria Camarena went as missionary," Vasconcelos wrote on Oct. 13, 1777.

The trail drive to Texas lasted through winter and into early spring.

"The animals of the missions of Texas arrived after 5 months and 11 days on the road," Vasconcelos noted in his journal on March 24, 1788.

The "conductor" of the trail drive, Fray Jose Antonio Garcia, had ridden into San Antonio the day before, Vasconcelos noted. Garcia got only four days to enjoy whatever amenities existed in the small frontier community before leaving for the long return trip to the interior.

Clearly, pushing cattle across the Northern Mexico desert took longer than making the trip without cattle. Garcia was back in Zacatecas by April 15, his trip having taken only 18 days.

The Spanish rounded up cattle in the fall and spring, just as ranchers still do today.

On July 16, 1792, Father Garcia was relieved "of his work as procurator and conductor for the missions." His successor, Father Vicente Parra, left Zacatecas on October 13 with "the drove of animals with supplies for the missions of Texas."

Maybe because of inexperience, or bad weather, it took Parra longer to make the trip to San Antonio and back. He did not return to Zacatecas until April 15, 1793, some six months later.


In addition to offering some insight into the beginnings of the Texas cattle industry, the diary-keeping priest chronicled the hazards of colonial life in the remote province, particularly the dangers facing travelers and cattlemen. During the first half of 1781, 16 persons, both Spaniards and missionary Indians, died at the hands of Comanches.

"Hostile Indians killed six soldiers who were bringing forage for the horses," Vasconcelos wrote on Feb. 6, 1781. "Two or three days later Mariscada [a Spanish officer whose first name was not given] went out to avenge the deaths and, returning by way of el Paxtle, left five citizens to get the hide of a cow. While they were doing this, the Indians attacked and killed two; the other three escaped."

On March 18, 1781, a man and his son left their ranch near present Floresville to round up their cattle. "They were met by Indians and killed," the priest wrote.

The threat to these early-day cattlemen continued. On August 5 that year, Vasconcelos wrote, "The leader and a few cowboys [the missionary wrote in Spanish, of course, using the word 'vaqueros' for cowboys] from Mission San Juan Capistrano were taking cattle for rationing from the corral at Mission Concepcion where Comanche Indians appear near Mission San Jose. In the ensuing struggle [two vaqueros] were wounded."

Despite the hazards in Texas, Father Vasconcelos died of natural causes on July 20, 1815 near Guadalajara and was buried in the cathedral there. His diary was not discovered by modern historians until 1971, when Father Benedict Leutenegger of San Antonio found it in a convent in the small Mexican town of Guadalupe, near Zacatecas.

Leutenegger had it microfilmed for the Old Spanish Missions Historical Research Library in San Antonio and published a translation of it in 1977.



© Mike Cox
"Texas Tales" March 21, 2005 column

Related Topics: Columns | Ranching, Cattle Drives | Texas |