Comanche Raids in
Coryell County

by Mike Cox
The Army, both in its absence and its presence, has had a big impact on Coryell County over the years.

The establishment of Fort Gates on the Leon River in 1849 is what helped stimulate settlement of the area as folks in Bell, Burleson, Milam and Washington counties began to move into the eastern and southern parts of Coryell County. Hostile Indians wisely steered clear of the vicinity.

The military abandoned the stockaded garrison (one of the few Hollywood-style military posts ever actually built in Texas) in March 1852, but the settlers drawn by the protection it had offered did not. By the 1860s, some of the countyís early settlers had moved westward, building cabins near what soon became the community of Pearl.

With the soldiers gone, and most of Texasí fighting men tied up in the Civil War, the Comanches felt free to raid all along the stateís western frontier. Texasí Confederate state government fielded companies of Rangers to patrol the outlying counties, but they couldnít be everywhere at once.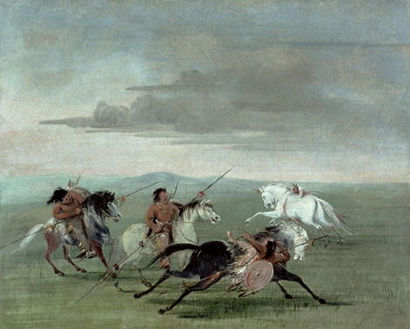 Comanche Warriors by George Catlin
Courtesy of www.georgecatlin.org
Thatís how things stood on April 26, 1863 when a Comanche raiding party came up on a settler named Steven Williamson, who lived several miles southeast of Pearl.

When Williamson didnít come home that night, worried family and friends went looking for him. They found his arrow-studded body lying near a large tree that he may have tried to use for cover. The Indians had scalped him and then pinned his thighs together, a sign that he had defended himself gamely. Likely he wounded or killed some of his attachers before they overpowered him.

His family carried his body home in the back of an ox-drawn wagon, built a coffin, lined it with black calico and took him to the southern part of the county near the community of Eliga for burial.
Years later, Gordon Shook, Williamsonís great-grandson, could still find what was left of the liveoak where his relativeís body had been left by the Indians and posed for a photograph there. Charles E. Freeman used the image in his book, ďA History of Pearl, Texas.Ē Gordon Williamsonís grandfather, J.W. Shook, in 1875 had settled the land where the attack had occurred.

Freeman also included in his book a couple of accounts from Coryell County oldtimers who lived through those bloody days.
Mrs. W.W. Robinson remembered a time when she was a little girl that she and her father just missed a run-in with Comanches. During the week, she and her brother John stayed at her uncle Andy Boneís place on Cowhouse Creek so they could attend a one-room school at King. One Friday, her father Eli Williamson (whether he was related to the late Steven Williamson was not mentioned in the book) came to pick them up for the weekend. Her brother rode his own horse while she sat behind her father on his horse. Not far from their home on Beehouse Creek, her father spotted a group of Indians before the Indians saw them.

Yelling for his daughter to hang on, Williamson wheeled his horse and galloped off in the opposite direction. They made it home safely, but it was a scare she never forgot.

Coryell County residents had to stay alert for prowling Indians for several years more. Dallas Edmondson later told of a Comanche horse-stealing foray down Beehouse Creek in 1871. The Indians missed his horses, which he had out grazing, but they made off with some others.

Though he died violently, Steven Williamsonís body rested in peace until World War Two broke out and the Army decided to return to Coryell and surrounding counties. This time, of course, the military wasnít moving in to protect residents from hostile Indians. The Army needed a lot of open land for tank and artillery training.

The Army bought thousands of acres, including the area where Williamson had been buried. Some 300 families had to give up their land and move. Any grave on the soon-to-be military reservation that could be located was dug up and reinterred, but even with the help of surviving family members, Williamsonís burial site could not be found. So far as is known, it has never been located.


© Mike Cox
"Texas Tales" January 27, 2011 column

More Texas History | Texas Towns
Books by Mike Cox - Order Now