Had it played out differently, what happened in Real County in 1924 could have changed aviation history.

The story starts in Missouri, where St. Louis automobile dealer Leon A. Klink had an abiding interest in flying machines as well as cars. For $250, he bought a World War I-surplus JN-4C Canuck, a Canadian version of the OX5 Curtiss. The one-engine, 90-horsepower bi-plane had a top speed of 75 miles an hour.

Owning an airplane not being nearly as satisfying as owning an airplane and flying it, Klink asked a 22-year-old acquaintance most folks called Slim to teach him how to fly and then join him on a flight to more southern climes. Slim already had 250 hours flight time but he had applied to attend the Army's flight school at Brooks Field in San Antonio to sharpen his skills and serve his country. Not having received official word of acceptance, he didn't have to be arm-twisted into escaping Missouri's winter for a multi-state plane trip.

Leaving St. Louis January 24, the two young men winged their way through Kentucky, Tennessee, Mississippi and Florida, where a minor accident at Pensacola delayed them for repairs. While there, Slim got word to report to the Army on March 15. Still having some free time, they decided to head for California by following the tracks of the Southern Pacific.

Low on fuel after confusing the Nueces for the Rio Grande, Slim put the plane down in a plowed field near Camp Wood. Intending to take off again as soon as they refueled, the two aviators got a ride into town to buy gasoline.

Getting back to their plane late in the day, the two cross-country flyers accepted an invitation from a nearby ranch family to spend the night before resuming their flight. Years later, Ray Chant recalled that they sat around his family's fireplace enjoying the warmth of the hearth and good conversation, though Klink talked more than Slim.

The next day when they tried to take off, they found the ground too soft for the Canuck to get up sufficient airspeed. Removing their luggage, the passenger seat and tool box, they tried again with only Slim in the plane.

The plan worked. Slim flew toward Camp Wood to find a better landing spot while Klink hitched a ride into town, hauling everything they had taken off the plane. Slim put the Canuck down on the Uvalde road, the town's gravel main street.

Almost everyone in the county gathered to see the flyers on their way west. But as Slim taxied, confident he could squeeze the plane's 43-foot wingspan between telephone poles on each side of the street, one of the wheels hit a rut. The aircraft veered sideways, its wing clipping one of the telephone poles. Now out of control, the aircraft crashed into the side of Warren Pruett's hardware store.

Klink and Slim climbed out of the cockpit uninjured, relieved to find that no one had been inside the store when they hit it. The impact scattered pots and pans, caused a portrait of President Calvin Coolidge to drop to the store's wooden floor and, according to some, left a horse collar draped around the plane's smoking radiator.

With the help of several townspeople, the two aviators pushed the Canuck to a garage operated by Russell Vernor and Ben Wall. They tried to repair the plane's wooden propeller, but they couldn't get it balanced. The fliers ordered a new propeller and shellac (they referred to it as "dope") from Houston to repair the plane's torn cloth fuselage.

The temporarily grounded aviators rented a room at the Fitzgerald Hotel and managed to make friends with a couple of Real County girls while waiting for the repairs to their plane. Once they had their aircraft flight-worthy, to cover expenses they gave folks rides for $5 a head before leaving town.

On their next landing after Camp Wood, a dagger plant tore their plane again. This time it took eight days to get the plane fixed. Out of time, Slim flew the plane to San Antonio to report for duty and Klink continued on to California by train.

No one having been hurt, the Camp Wood incident went unmentioned in the state's daily newspapers. Klink and Slim were just another couple of daring young aviators until May 21, 1927, when Slim - Charles A. Lindbergh - landed in France after successfully completing the world's first non-stop flight from New York to Paris.

As the 50th anniversary of the flight approached, writer Jack Keasler located Klink, who still lived in St. Louis. In 1977, the Nueces Chamber of Commerce invited him to that year's Old Settlers Reunion. Klink flew (commercially) to San Antonio, where then Camp Wood Mayor Austin Dean and chamber president Bob Marshall picked him up at the airport and escorted him to Real County.

To give Camp Wood another tourist attraction, the chamber attached a large model airplane to the front of their building in such a way that it looked like it had crashed into the structure. Eventually, the small plane ended up in the local museum, which also has the wooden propeller Lindbergh and Klink left behind.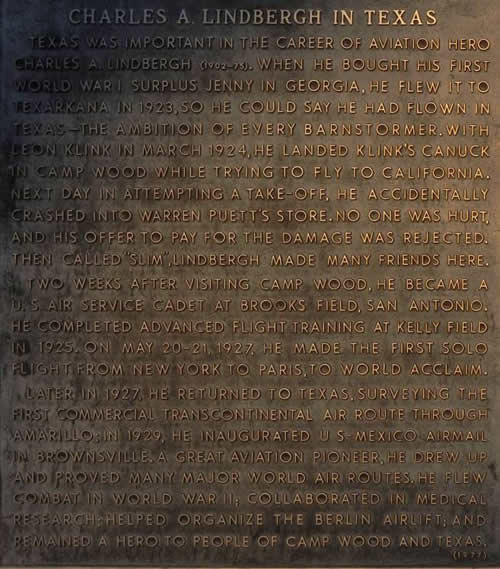 Charles A. Lindbergh in Texas historical marker in Camp Wood
Photo courtesy Barclay Gibson, February 2011
Click on photo for large image
---