---
---
---
History in a Pecan Shell

Just into the 20th Century, James and Charles Fowler formed the Fowler Brothers Land Company in an ambitious attempt to sell off and/or develop 100,000-acres that had once belonged to the huge Dull Ranch.

Things looked promising – they had a river for irrigation and a railroad to take produce to market.

The railroad was the San Antonio, Uvalde and Gulf Railway. The brothers convinced the railroad to include the modestly named town on their tracks and they had constructed dams on the Frio river to provide the water.

The town was platted on a grid and 200 miles of public roads were graded. The brothers also built a cotton gin in anticipation of huge cotton crops. With everything in place – they set out to recruit settlers, investors and business people to populate their town.

The land was divided into small tracts sold on generous terms. For $25 down and $10 a family could get land for crops AND a nice lot in town. By October 1911, when the SAU&G officially arrived in Fowlerton, the town was prepared with two hotels, three stores, miles of streets, telephones and 1,200 Fowlerites. By 1914 nearly 2,000 people were comfortably enjoying life by the Frio River.

After 1917, a severe drought set the entire area behind and people started moving to greener and wetter pastures. Bitter farmers blamed the Fowler Brothers and they were the target of a number of lawsuits accusing them of fraud.

The town's decline was immediate. By 1925 the population had dropped to 600, and by 1931 only six businesses were open. By 1949 the population had declined to only 300 residents and by the mid 1960s it was only 200.

In 1972 the population was down to 100 (the same as the estimated population of 1990).

In 1986 one unnamed newspaper called Fowlerton a "near-ghost town."

A recent visit showed Fowlerton to have new street signs for its well-planned grid of streets. The post office is the dominant building and the abundance of cactus and mesquite trees arrange picturesque groupings.

Fowlerton Landmarks ›
Fowlerton Vintage Postcards ›
Fowlerton, Texas Landmarks:
One of Fowlerton's older churches.
TE photo, 8-02
Fowlerton Flora
TE photo, 8-02
Fowlerton, Texas Vintage Postcards:
These postcards were used by the Fowler Bros. Land Company to promote their new town. - William Beauchamp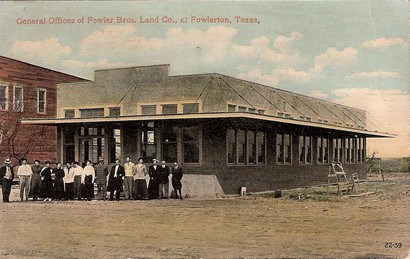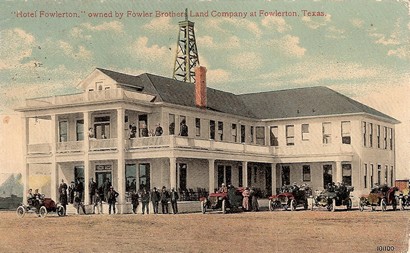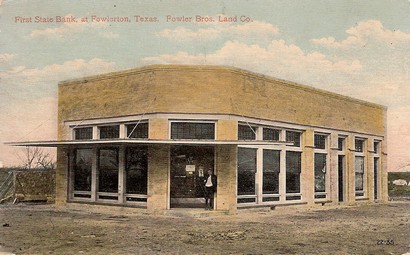 Fowlerton, Texas Forum
Subject: Fowlerton Backstreets and BB Guns
Dear TE, Thanks for the memories. I grew up around Fowlerton and Cotulla. My grandparents (Buck and Agnes Turman) lived behind the general store, set back off the road, apiece, in a quaint red house. My papaw was a well respected rancher, and my childhood memories of working cattle at the ripe ol age of 5, or rabbit hunting with a B.B. gun, riding my horse on the backstreets of town are plentiful. Such great memories. I used to ride past the old falling-down saloon and imagine what stories were told there or how many brawls took place. On my grandfather's land there was an old school. I'd find old ink wells, and wonder how many children might've walked through those schoolhouse doors.

My papaw also owned an old theater. Not useable now, by any means, but at one time the patrons watched movies on a 6 ft wide and 4 ft tall screen that was bordered by old palm fronds. With no air conditioning, one wall was slatted about halfway up so air could pass through and there was still remnants of snowcone syrups, so they knew how to stay cool.

My grandmother, still living, is 95 years old. We live in Bandera Texas now, She knows much more of Fowlerton's history and I have many more stories to share. - Demaris Wilson, Bandera, Texas, January 14, 2007
---
Texas Escapes, in its purpose to preserve historic, endangered and vanishing Texas, asks that anyone wishing to share their local history and vintage/historic photos, please contact us.
---