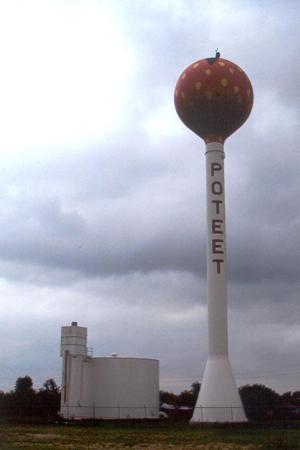 History in a Pecan Shell
Poteet was named after local blacksmith / postmaster Francis Marion Poteet. The post office opened in 1886 and by 1892 the town had most basic businesses, including a gin, gristmill, and wagonmaker. In the mid 1890s Henry T. Mumme arrived, opened a store and succeeded Poteet as postmaster.

Mumme discovered artesian wells in the area in 1902 - even while the region was suffering from a drought. When the Artesian Belt Railroad was building through the area the Mummes donated land to the railroad (three miles southwest of the original site) and built a new store alongside the railroad.

Having irrigation from the wells, Mumme planted strawberries and the rest, as they say, is history. A three-day strawberry festival was first held in 1948 and is now an annual event (although the strawberries are shipped in from California).

From a population of 500 in 1914 Poteet grew to 2,300 after oil was discovered nearby in the 1940s. From the 1970s, the population stabilized around the 3,000 mark - peaking in the late 1980s at 3,519 and then declining to 3,206 for the 1990 census.
Poteet Strawberry Capital of Texas
Photo courtesy Terry Jeanson, May 2005
Closed store next to City Hall on Avenue H
Photo courtesy Terry Jeanson, May 2005
Tile mosaic in front of fire department by artist Milton Caniff.
Photo courtesy Terry Jeanson, May 2005
1930s Poteet store
Photo courtesy Library of Congress
Poteet Realtor
1930s Photo courtesy Library of Congress
Poteet Historical Markers and Plaques
Poteet historical marker in front of the post office.
Photo courtesy Terry Jeanson, May 2005
Memorial in front of the fire department, dedicated by Poteet family descendants, to Frances Marion and Mary Ann Poteet and their family.
Photo courtesy Terry Jeanson, May 2005
Center plaque on Poteet family memorial.
Photo courtesy Terry Jeanson, May 2005
Custom Search
Book Hotel Here - Expedia Affiliate Network