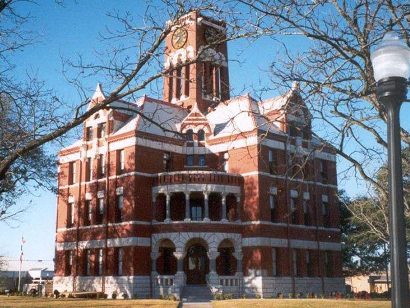 The Present Lee County Courthouse
- Giddings, Texas
Date: 1899
Architect J. Riely Gordon
Style: Romanesque Revival
Material: Brick
Recorded Texas Historic Landmark

The courthouse is between Hempstead and Richmond Street on Main in Giddings; one block from the busy intersection of highway 77 and 290. This 1899 structure is completed one year after the Comal County Courthouse in New Braunfels. Gordon designed them both.

Photographer's Note:
"This courthouse has been restored under the Texas Historical Commission's Courthouse Preservation Program. It was rededicated on October 8, 2004." - Terry Jeanson

"During my last visit in 2010, I was told by someone at the courthouse that water seepage under the foundation is what led to the severe cracking in the walls that I was seeing all around the building. An emergency grant of over $800,000 was awarded to Lee County by the Texas Historical Commission in January of 2010 towards the repair of the foundation problems plaguing the building." - Terry Jeanson, October 1, 2013.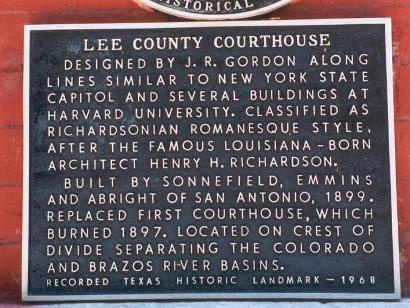 Lee County courthouse historical Marker
Photo courtesy Terry Jeanson, November 2004
Historical Marker Text
Lee County Courthouse
Designed by J. R. Gordon along lines similar to New York State Capitol and several buildings at Harvard University. Classified as Richardsonian Romanesque style, after the famous Louisiana-born architect Henry H. Richardson. Built by Sonnefield, Emmins and Abright of San Antonio, 1899. Replaced first courthouse, which burned 1897. Located on crest of divide separating the Colorado and Brazos River basins.
1968
Lee County Courthouse Photos
Lee County Courthouse as it appeared in 1939
Photo courtesy TXDoT
The rear side of the courthouse. The two-story district courtroom is in this part of the building on the upper two floors.
Photo courtesy Terry Jeanson, December 2007
Lee County courthouse at dawn
Photo courtesy Barclay Gibson, April 2005
Lee County Courthouse
Postcard courtesy rootsweb.com/ %7Etxpstcrd/
The restoration of the courthouse's clock tower included changing the previous white clock faces to black.
Photo courtesy Terry Jeanson, Dec. 2007
"Lee County courthouse district courtroom. At the time I took these pictures, someone in the courtroom told me that the color of the walls and the painted patterns were culturally significant to the Wends, a Slavic people from eastern Germany, who were early settlers to this part of Texas."
Photo courtesy Terry Jeanson, January 2006
A view of the judge's pulpit from the upper gallery.
Photo courtesy Terry Jeanson, January 2006
Lee County Courthouse and courthouse grounds
Postcard courtesy rootsweb.com/ %7Etxpstcrd/
Custom Search