HEREFORD, TEXAS

Deaf Smith County Seat, Texas Panhandle

34°49'19"N 102°23'55"W (34.821961, -102.398617)

Hwy 385 and Hwy 60
FM 1058
30 miles S of Vega
21 miles N of Dimmit
46 miles SW of Amarillo
ZIP code 79045
Area code 806
Population: 14,622 Est. (2019)
15,370 (2010) 14,597 (2000) 14,745 (1990)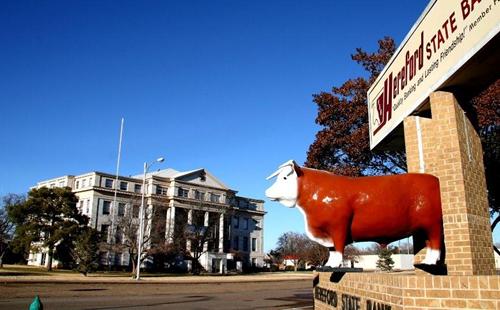 Hereford celebrates its official birthday at 8:00 P.M. September 1st (1898).


Hereford Historical Marker
Title: Town Without a Toothache

Year Marker Erected: 1967

Marker Location: Located at little park on US 385 at 4th and Bennett Streets.

Marker Text:
Hereford's "miracle water" was brought to national fame in 1941 when Dr. Edward Taylor, State Dental Officer, told the American Dental Association that tooth decay was almost unknown here. This ideal situation had been discovered by a local dentist, Dr. George Heard, originally from Alabama. In a cross-section survey, dentists found that few local people had dental cavities. Hereford's mineral-rich water and soil are thought to prevent tooth decay. Demand arose for Hereford water to be shipped all over the U.S. and to foreign nations.
Hereford's Historical Marker text courtesy of Gary E. McKee.
One of the "miracle water" wells in Hereford
Postcard courtesy www.rootsweb.com/ %7Etxpstcrd/
Hereford, Texas Attractions & Landmarks
"The Chapel is located about 3-1/2 miles south of Hereford almost exactly on the Deaf Smith/Castro County Lines. From FM 1055 west on Deaf Smith CR 1 one mile and south on CR H about 500 yards... more" - Barclay Gibson
Hereford, Texas Vintage Images
"Hereford - City of Fine Churches"
Postcard courtesy www.rootsweb.com/ %7Etxpstcrd/
"Elm Court, Hereford, Texas"
Postcard courtesy www.rootsweb.com/ %7Etxpstcrd/
---
Hereford Texas Forum
Subject: Riding in Tires in Hereford

We lived south of Hereford on South Main, two girls and eight boys, and during the Great Depression we made our own fun by walking on stilts, digging caves, playing tin can shinny, and riding down the hill inside truck and car tires. The decline toward Tierra Blanca Creek began just a tad north of our house. By 1938 South Main was paved, wide enough for two vehicles. The ditches on both sides were pretty deep, white as could be because they were lined with caliche.

My big brothers could not get inside a car tire, but since I was next to the baby I could sit inside a car tire. With my head pushed against the stiff sides, my feet barely sticking in to the sides, I would say, "OK, Push." A brother would start the tire rolling on the pavement. The trick was to stay on the pavement, but to turn into the caliche ditch when the tire rolled too fast. In other words, CRASH. A ride down the hill inside a tire always ended in a crash. None of us ever kept going all the way to the wooden bridge over the Creek, for fear of missing the bridge railings and flying off into the creek.

It always hurt when the tire crashed into the ditch, but it was so thrilling to spin and holler, it was worth the pain. It was not much fun pushing the tire back up the hill, but that's the only way we could be launched again.

Lawrence Owen, Santa Monica, CA., October 01, 2018
---
Texas Escapes, in its purpose to preserve historic, endangered and vanishing Texas, asks that anyone wishing to share their local history, stories, landmarks and recent or vintage photos, please contact us.