---
---
---
---
---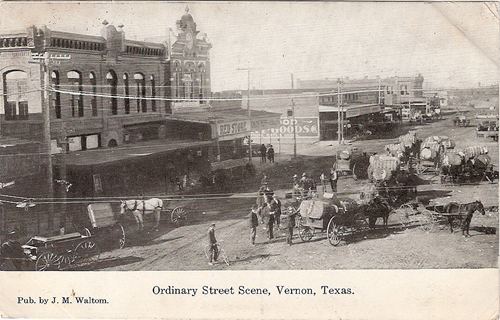 ---
History in a Pecan Shell

The name Vernon was their second choice after the Post Office refused the requested Eagle Flat. (For more on naming of Vernon, see Forum below.) The county's name, however has a more hair-raising story attached to it:

Josiah Wilbarger was an early settler who was scalped by Comanches down around Austin, where a creek under Highway 71 still bears his name.

Josiah had the presence of mind to cover the wound with a sock (the only clothing the Comanches left him) before slipping into unconsciousness. He crawled for two days and was mistaken for a Comanche and nearly killed by rescuers. He lived for many years after the incident, although his skull decayed and his brain was eventually exposed, resulting in coma and eventual death.Vernon lent its name to a struggling opera singer who combined it with Dalhart and became Vernon Dalhart. Armed with this impressive name, he sold hundreds of thousands of early "western" records.
---
Fargo and Doan's Crossing

Vernon's 19th Century history is closely bound to the Red River crossing some 15 miles north. Corwin Doan operated a store at this point and supplied cowboys with all they needed to survive the trip. This is where an estimated six million Longhorn cattle crossed on their way to the railheads in Dodge City, Kansas.

The fencing of the west and the invention of barbed wire put an end to the cattle drives that brought Texas back from the economic collapse brought upon by the Civil War.

Ironically Vernon had often played host to The International Barbed Wire and Antique Show.
---
Vernon Landmarks / Attractions
Touring Vernon
---
---
---
Population 12,001 (1990)

We checked four references for Vernon's population and they all say 12,001. We asked eight different Vernonians if they happened to know whom the last person counted was, and seven of the eight said it was they.

The eighth person told us that the citizens of Vernon were called Vernonites, and that the twelve thousand and first inhabitant was probably a rare example of Census Bureau humor.
---
Vernon, Texas Forum - Naming of Vernon
Subject: Name of Vernon, Texas
There is no historical proof of the Mt. Vernon theory as to the reason for Vernon's name. I agree completely with Joyce Ashley. And I was born and raised in Vernon. - Lee Probst, May 27, 2008


No Vernonites in Vernon
Dear TE, Just a couple of comments on your Vernon information. There are several incorrect statements. For instance, Carnegie City-County Library still exists. It simply moved to a new and more modern location at 2810 Wilbarger Street before the old building on Cumberland Street was torn down.

Vernon was not necessarily named for Mount Vernon, although that is certainly one theory. However, according to the Wilbarger County history book (page 578), "After the name Eagle Flat was not accepted by the postal authorities due to other offices with "Eagle" in the name, the name Vernon was chosen but history has not recorded a substantiated reason for the selection." The book goes on to say that another (and more colorful) version of the origin of the name was that it was named after Vernon Brown, a whisky drummer, the first to call on the new townsite, promised free samples of his wares if the then-new town was named after him. Actually, no one knows for sure how the town got its name.

Also, I have lived in Vernon for 57 years now and have NEVER heard anyone called a "Vernonite."... - Joyce Ashley, Vernon, Texas, January 7, 2007


Subject: Kramer's studio
I found numerous old, old photos left by my Grandmother, they were developed at Kramer Studio in Vernon, Texas. Can you tell me if, by some miracle, it's still in business or what may have happened to it? Thanks, Margie Foster, OKC, January 05, 2006
---
Vernon Tourist Information
Vernon Chamber of Commerce
On the NE side of the square on Main Street (Hwy 283).
1-800-687-3137 or 940-552-2564.
Website: www.vernontx.com

Book Hotel Here > Vernon Hotels
---
Texas Escapes, in its purpose to preserve historic, endangered and vanishing Texas, asks that anyone wishing to share their local history and vintage/historic photos, please contact us.
---