A Few of the Images from
Images of America
WESLACO
Karen Gerhardt & Blanca E. Tamez, Authors
Arcadia Publishing Company
Book Hotel Here > Weslaco Hotels
Weslaco's somewhat late start allowed them to avoid the trials and errors of other communities and also guaranteed that from the very beginning the town had its history recorded on film. S.L. Edrington was perhaps the most prolific photographer in the area. Hall Studio and Yoder Studio were also in Weslaco and photos from all three studios help illustrate the Hidalgo County and Weslaco books. The information here is taken from the captions accompanying the photos, but are not the captions of the authors. - TE
Image 1 - Little Girl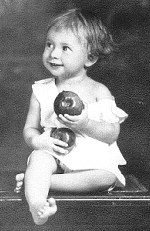 She could be from anywhere, but she's from Weslaco and that's why her picture is here. This is a 1926 portrait of 14 month old Elaine Walker. Weslacoans were sometimes forced to eat apples while waiting for the grapefruit crop to ripen.
From the historic photograph collection of Weslaco Museum
Image 2 - Broccoli Harvest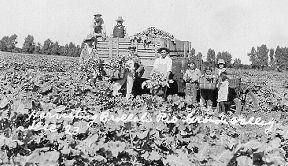 Before there was grapefruit, there was broccoli.
Photo dated 1923
Photo Courtesy Weslaco Museum
Image 3 - Gentlemen Fishermen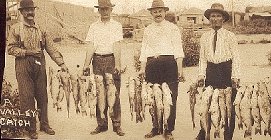 An undated photo of some well dressed fishermen.
Photo Courtesy Weslaco Museum
Image 4 - High School Faculty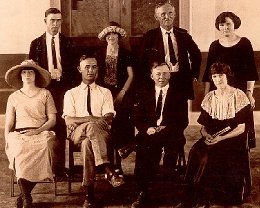 The First Weslaco High School Faculty 1923
Photo Courtesy Weslaco Museum
This photo shows that 50% of Weslaco women wore hats in 1928, while 100% of men wore ties. The man who looks most like the principal isn't. He's the Superintendent.

Believe it or not, the young man standing on the left is the Principal.

Lily and W.T. Barbee (seated left) were married. She taught Home Economics and he taught Vocational Agriculture.
Image 5 - Ed Couch in Weslaco's 10th Anniversary Parade
Photo Courtesy Weslaco Museum
This man had a town in South Texas named after him! Ed Couch was one of the co-founders of Weslaco and a prominent banker as well. His wife taught school and his evident good nature comes across in this photo. He may have also lost a bet. Ask your banker if he or she will dress like this for your next parade.
Image 6 - Entries in the "Doll and Buggy Parade 1933"
The nurse's charge seems to be sedated so this gave her time to push one of the other entries. The caption notes that the little girl in the center is Sonya Ann Bullard.
Photo Courtesy Weslaco Museum
Custom Search