WESLACO, TEXAS
Hidalgo County, South Texas

26°9'33"N 97°59'15"W (26.159130, -97.987374)

State Hwy 83 & FM 88
W of Mercedes
E of Donna
18 miles S of Edinburg the county seat
16 miles E of McAllen
19 miles W of Harlingen
5 miles N of Progreso
7 miles N of the bridge over the Rio Grande to Nuevo Progreso, Mexico
Population: 41,629 Est. (2019)
35,670 (2010) 26,935 (2000)
Home to an estimated 6,000 Winter Texans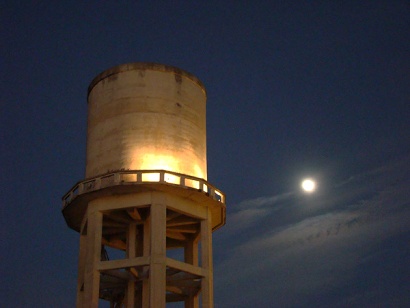 History in a Pecan Shell

The Spanish Land Grant refers to the area as Llano Grande and date back to 1747. Over the years the huge tract was broken down into smaller parcels.

In 1904, Lon C. Hill, founder of Harlingen and Uriah Lott, brought the railroad through the underpopulated area which was primarily ranchland at this time.

Camp Llano Grande was set up as part of a huge military buildup by the Army to secure the U.S. Border during the turmoil in Mexico and occasional forays into Texas by Mexican banditti. The camp provided training for troops that would later be sent to France in WWI.

W. E. Stewart was a land developer from Kansas City who named the town after his W.E. Stewart Land Co. The first lots of Stewart's 30,000 acres went up for sale on December 10th 1919, but nobody felt like pouring foundations over the holidays, so 1920 was the year things really got started.

The post-war optimism brought an influx of eager pioneers. Weslaco had been relying on its neighbors of Mercedes and Donna for mail delivery and electricity until they got their own power plant and post office.

1920 also gave Weslaco a posting of Texas Rangers. 1924 brought a fire, while 1927 brought a permanent depot. In 1928 the beautifully detailed City Hall was built and the Cortez Hotel opened its doors on the last day of the year with a New Year's Eve Ball.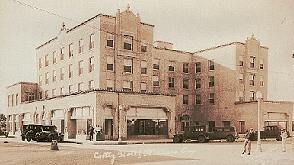 The Cortez Hotel (Villa de Cortez Today)
Photo courtesy Weslaco Museum
It was a decade of accomplishments and by 1929 they had a lot to show for their 10th anniversary.

During prohibition there was a lot of traffic on the bridge to go have a legal drink in Mexico and watch the dog races. Al Capone was said to have spent some time here looking after his interests (which had nothing to do with citrus).

The people of Weslaco came up with an idea to brighten the gloom of the Great Depression in 1936 by lighting two blocks of Texas Boulevard downtown with neon.
Before "Main Street Cities" there was Texas Avenue.
From the historic photograph collection of Weslaco Museum
Street Scene, Weslaco, Texas 1926
Photo courtesy of Weslaco Museum
From the historic photograph collection of Weslaco Museum
Weslaco suffered the natural calamities of flood and hurricane, fire and freeze.

In 1933, forty people were killed in what Floridians refer to as The Labor Day Hurricane and the suspension bridge at Hidalgo fell into the Rio Grande. The bridge at the Mercedes-Rio Rico crossing collapsed in 1941.

A severe freeze in 1951 killed an estimated 12 million grapefruit trees.
Weslaco Night Scene
Photo courtesy Ken Rudine, November 2010
Weslaco, Texas Area Attractions
The Harlon Block Memorial: 1100 Vo-Tech Drive (The Texas National Guard Armory) Monument to a local youth who became one of the Marines who raised the flag at Iwo Jima.


The Weslaco Museum: 515 Kansas Avenue


Valley Nature Center: 301 S. Border at Gibson Park.
Hours: Tuesday through Saturday 9 to 1
Nature trail and exhibit hall of local flora including a lily pond and cactus garden. 956-969-2475


Weslaco Hotels › Book Here
Weslaco, Texas
Features & Vintage Photos
Weslaco City Hall / Fire Department / Jail 1928
R. Newell Waters - Architect
Photo courtesy Weslaco Museum
---
---
---
Street Name Trivia by Joe Foster

A set of avenues in Weslaco were named for mostly NORTHERN states on the north or both sides of town, and a few southern states on the southern side. They run north to south, with a few other Texas nationalistic terms thrown in:
BORDER, Colorado, REPUBLIC STREET/CALLE DE LA REPUBLICA, Oklahoma, Ohio, Georgia, Louisiana, Indiana, Nebraska, Missouri, TEXAS BOULEVARD, Kansas, Illinois, Iowa, Tennessee, Florida (next to ORANGE Ave.), Michigan, Oregon, Utah, and Nevada. more
---
Weslaco Tourist Information
Weslaco Chamber of Commerce: 1710 E. Pike Blvd. 956-968-2102
Website: www.weslaco.com

Rio Grande Valley Tourist Information Center: US HWY 83 & FM 1015 Mon through Fri 8:30 to 5.
Weslaco's unique story has a book of its own.
Authors:
Karen Gerhardt and Blanca E. Tamez
Order here >
© John Troesser
First published December, 2000
Photos provided by Weslaco Museum and Hidalgo County Historical Museum.
---
Texas Escapes, in its purpose to preserve historic, endangered and vanishing Texas, asks that anyone wishing to share their local history, stories, landmarks and vintage/historic photos, please contact us.