People
TEXAS ARTISTS
Ten Things to Know About
JERRY BYWATERS
Artist and Champion of Texas Arts and Artists
Full Name:
Williamson Gerald "Jerry" Bywaters

By John Troesser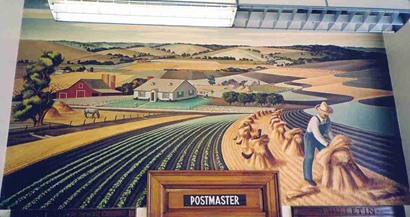 Born in Paris, Texas in 1906, Bywaters was ten when the Paris Fire occurred. It was fitting that he was later awarded the commission to paint the two murals of the fire.
He graduated from Southern Methodist University in 1926 with a degree in comparative literature (in 1987 SMU acknowledged his career with an honorary doctorate).
Returning to Dallas after trips to Mexico, Spain and France in the late 1920s, Bywaters returned to Texas to "organize" fellow artists who shared a common interest in what was called Regional Art. He became a spokesman for a group of young artists who lobbied to paint the buildings at Fair Park for the Texas Centennial. The group, known as the Dallas Nine, later grew to include numerous other painters and sculptors.
His most productive period of output was between 1937 and 1942.
Bywaters was a founding member of Lone Star Printmakers, Texas artists who produced and published original prints of Texas themes.
Bywaters was employed as art critic for the Dallas Morning News from 1933 to 1939.
Bywaters served from 1943 to 1964 as director of the Dallas Museum of Fine Arts while teaching art and art history at Southern Methodist University.
During the "Red Scare" of the 1950s, the Dallas Museum was charged with exhibiting "communist" works. Support for the museum was threatened but under Bywaters' direction, the threat dissipated while the museum stood fast – placing art above politics.
Bywaters never tired of producing catalogues for art exhibitions, publishing art magazines, or editing books on art. He even used his own talent to illustrate articles on art by other authors.
After retirement from Southern Methodist University, he became regional director of the Texas Project of the Smithsonian Institution's Archives of American Art.

Epilogue:
Southern Methodist University was bequeathed Bywaters' personal papers and remains the repository for Bywaters' works and writings. He breathed art – and his contributions to the world of Texas art came at a cost of him producing his own work. He was married to Mary McLarry Bywaters for 58 years until his death in 1989.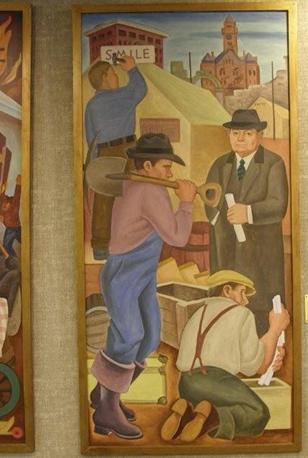 Works on Public Display
Texas murals included three "standard" post office murals (Farmersville, Trinity and Quanah) as well as panels at the old Dallas City Hall (a collaboration with Alexandre Hogue). Four murals are exhibited in Paris at the city library (two depicting the Paris Fire of 1916 and the rebuilding of the city and portraits of Davy Crockett and Cattle Baron John Chism). Murals in Houston depicting the Houston Ship Channel are currently unavailable for viewing.
In The Public Library
by
Jerry Bywaters
1941 Oil
Gift to The Paris Public Libary
from The Jerry Bywaters Family
In Memory of The Artist's Parents:
Hattie Williamson Bywaters (Honey Grove, Texas)
and
Porter Ashburn Bywaters, Sr. (Roxton, Texas)
Texas Escapes, in its purpose to preserve historic, endangered and vanishing Texas, asks that anyone wishing to share their local history, stories, landmarks and vintage or recent photos, please contact us.