---
---
---
Ghost Town Honeymoon
or
Lunamiel en el Rio Frio
Story and Photographs by Josa Combs
A newly-wedded couple drives to desolate Frio County in the late 1980s to camp alongside the Frio River. Thanks to the kindness of a mysterious writer, they're allowed to discover the crumbling ruins of Frio County's first seat of government.

Many years ago, someone told me about Frio Town. My new husband asked where I wanted to go for our honeymoon and I said I wanted to go to Frio Town.  He sure didn't seem too enthused! 

I love old ruins, towns, graveyards etc. But since the town was no longer on current Texas maps, I went to the courthouse and found it on an old map.  I saw that that it was on the Frio River, so that's where we planned on camping.
We located where the town might but there were only corn fields. There was a dirt road with a gate across it that was closed.  I climbed the gate and walked down the road in search of someone who might direct us.  I came across a beautiful old house and there in a screened-in porch was a man in a rocking chair reading a book.

He came out and talked to me and said he was a writer, but unfortunately I can't remember his name. I explained that we were on our honeymoon and I had wanted to see old Frio Town. He mentioned that the site is privately owned and closed to the public. Perhaps it was because we were on our honeymoon, but for whatever reason, he was a gracious host.

He drove me back to the gate to get my husband and started showing us around and told us about the old jail, etc. Then, told us where the old courthouse was and sent us on our way. He said we could explore to our heart's content. We walked through the fields and woods and that's where we found the old chimneys and what appeared to be little grave markers where homes used to be.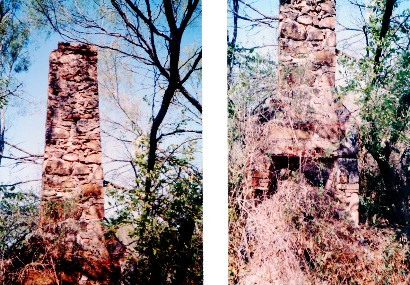 "There are two chimneys that are standing from old homes that used to be in Frio Town. They are scattered in the woods now. Some had small rocks close to them where, it looked like, children were buried."
Photo courtesy Josa Combs
"The small gravestones I mentioned. Some have carvings on them. They look like they were probably outside a back door of the home." - Josa Combs
Approaching the Old Frio County Jail
"The old jail was in bad condition." - Josa Combs
"This was taken from inside the jail. You can see someone carved words on the wall. It looks like someone marked off days."
Photo courtesy Josa Combs
The old jail was in bad condition, but one could still see the marks where former prisoners had carved off the plaster to keep track of their days.

Then we found the massive courthouse. When I crawled up the steps of the courthouse, there were still old papers laying around. Downstairs too, but the downstairs was in worse condition than the upstairs was.

There was an old telephone table with all the wires, old benches and what looked like a Judges desk. It was almost as if the people had just walked away. The huge beautifully-painted safe was something to see. 
The massive Old Frio County Courthouse
The courthouse behind vegetation
Old Frio County Courthouse courtroom
Now I live in Iowa but I'd like to share the photos from that day with Texas Escapes and its readers. I'd love to hear from anyone who might know who the kindly man was, so I could thank him again.

© Josa Combs
Iowa, March 2011
Slaughter Tombstone - Josa Combs' married name
---
Texas Escapes, in its purpose to preserve historic, endangered and vanishing Texas, asks that anyone wishing to share their local history and vintage/historic photos, please contact us.
---