Frio Town Topics of Interest
History in a Pecan Shell

The town was laid out by A. L. Odin in 1871 and became the county seat that year under the name Frio City. The site was chosen for its convenient low water crossing of the Frio River - said to have been used by Juan Ugalde (Uvalde's namesake), Santa Anna during the Texas Revolution and General Woll when he briefly occupied San Antonio in 1842.

The courthouse was finished in 1872 and the town had a stone jail as well. The original jail is still standing. The post office was established in that same year and a Masonic lodge was established sometime during the 1870s. The courthouse burned in 1877, and a new stone courthouse was constructed with assistance of local rancher W. J. Slaughter.

Frio City was an outpost of civilization - and the town would occasionally fill with people seeking safe haven from Comanche raids. Rangers were called in to solve the Indian mischief and the last incident occurred in 1877. In the early 1880s the estimated population was close to 1,500.

Frio City lost its prestige and population when it was bypassed by the International-Great Northern Railroad in 1881. Pearsall was on the line, however, and people and businesses moved the 16 miles to be connected to the rest of the world.

Pearsall became the county seat in 1883 and the decline in population made Frio City officially Frio Town in 1886. The courthouse was purchased in 1884 by an individual and became a general store/ post office for the shrunken community.

By 1890 there were only 100 people left in Frio Town and in 1916 the two-teacher Frio Academy was teaching 16 students in the former courthouse. Nevertheless, Frio Town was wired to the outside world by telephone in 1914.

By 1953 Mrs. A. C. Roberts owned most of the townsite, including the former courthouse and jail. Mrs. Roberts had an interest in history and contributed what she knew in a 1936 article in Frontier Times called: "Frio County Has a Colorful History," which remains part of the bibliography for the Handbook of Texas' entry for Frio Town.

Today the former courthouse, jail, cemetery and of course, the river crossing are all that is left of the once prosperous Frio City. The ruins are on private property, although the cemetery (on FM 140) is accessible.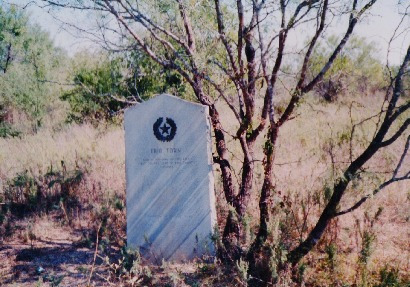 Centennial Marker Text

FRIO TOWN
Known 1871-1886 as Frio City
First county seat of Frio County
1871-1883

Presented by the State of Texas
1936
Story and Photographs By Josa Combs

A newly-wedded couple drives to desolate Frio County in the late 1980s to camp alongside the Frio River. Thanks to the kindness of a mysterious writer, they're allowed to discover the crumbling ruins of Frio County's first seat of government. more
The 1878 Old Frio County Courthouse
Material - Locally quarried sandstone
On private property today
The former Frio County Courthouse in Frio Town
Photo courtesy texasoldphotos.com
From "Ghost Town Honeymoon" by Josa Combs
"Then we found the massive courthouse. When I crawled up the steps of the courthouse, there were still old papers laying around. Downstairs too, but the downstairs was in worse condition than the upstairs was.

There was an old telephone table with all the wires, old benches and what looked like a Judges desk. It was almost as if the people had just walked away. The huge beautifully-painted safe was something to see." more
Old courthouse courtroom
1980s Photo courtesy Josa Combs
Old courthouse courtroom
1980s Photo courtesy Josa Combs
The 1872 Frio County Old Jail
Material - Locally quarried sandstone
On private property
From "Ghost Town Honeymoon" by Josa Combs
"The old jail was in bad condition, but one could still see the marks where former prisoners had carved off the plaster to keep track of their days." more
"Old jail taken from outside to inside. The rafters represent where the upstairs was. I was told by the property owner that the Sheriff lived upstairs." - Josa Combs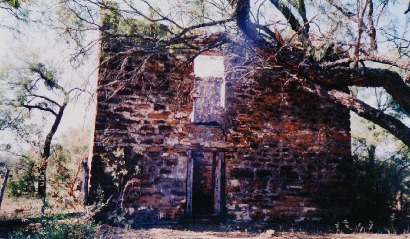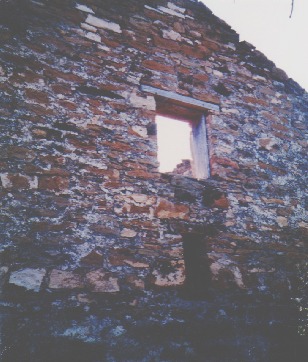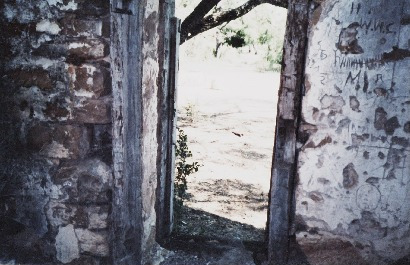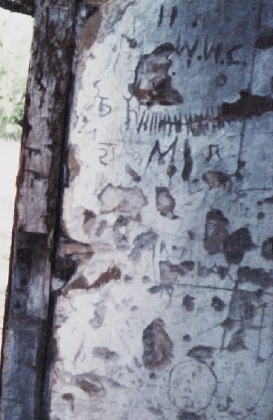 Historical Marker Text
Frio Town Cemetery
Founded in 1871, Frio Town served as the first county seat of Frio County. A courthouse was built in 1876, and a number of families built homes in the area. The International and Great Northern Railroad built a line from San Antonio to Laredo in 1881, bypassing Frio Town. By 1883 the new town of Pearsall (16 mi. E) on the rail line became the new county seat.

One of the few physical reminders of the historic Frio Town community, this cemetery stands as a testament to the county's early pioneer history. The first burials occurred in 1873, when Calvin Massey (1797-1873) was killed by Indians, and Robert Wesley Hiler (1855-1873) died in a horse riding accident.

Among the pioneer settlers interred here are Ben (1813-1893) and Minerva (1817-1895) Slaughter and their descendants, as well as members of the Roberts, Hiler, Little, Loxton, Taylor, Hattox, Blackaller, and Minus families. A number of early graves are unmarked. Six men killed in an Indian raid on the William J. Slaughter sheep ranch in 1876 are buried together in a row of graves. The cemetery also contains the burials of a number of infants and small children, a reflection of harsh conditions on the frontier.
(1991)
Slaughter Tombstone
1980s Photo courtesy Josa Combs
Texas Escapes, in its purpose to preserve historic, endangered and vanishing Texas, asks that anyone wishing to share their local history, stories, and vintage/historic photos of their town, please contact us.

Frio Town Area Hotels
Uvalde Hotels
Custom Search
Save on Hotels - Expedia Affiliate Network